MUSIC USA
The 500-page Music USA: The Rough Guide(1999, Penguin Books, $23.95) surveys the regional popular music of the United States, with chapters on the evolution of styles throughout the twentieth century in these areas: New York, Philadelphia, Appalachia, Nashville, Chapel Hill, Athens, Miami, Muscle Shoals, Louisiana, Mississippi, Memphis, Chicago, Cleveland, Detroit, Minneapolis, Texas, the Southwest, Los Angeles, San Francisco, Seattle, and Hawaii. Each section includes capsule reviews of the most essential recordings in each genre, and sidebars on key behind-the-scenes figures in each region, drawing upon first-hand interview material. The end of each chapter presents listings oft venues, festivals, radio stations, publications, record stores, books, and videos to investigate if you're traveling to or want to learn more about certain locales. Take a look at the sample excerpt below for a taste, and also dig into a few complete transcripts, exclusive to this website, of interviews conducted for the book.
Click here for:
Sample excerpt (from Louisiana chapter)
Full interview transcript with veteran Chicago blues singer Billy Boy Arnold
Full interview transcript with ace Los Angeles session bassist Carol Kaye
Full interview transcript with Nashville session man Charlie McCoy
Full interview transcript with Seattle producer and grunge forefather Jack Endino
Full interview transcript with New York Latin boogaloo jazz pioneer Pucho Brown
Music USA is part of the Rough Guides series of travel guides for the independent-minded voyager, now also including numerous music reference titles as well.
To buy Music USA:
Music USAis widely available at both independent booksellers and chain bookstores throughout North America, as well as many such outlets overseas. To order on-line via amazon.com, click on the book cover below.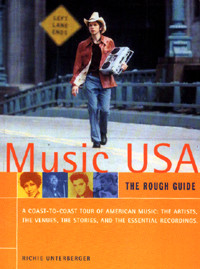 unless otherwise specified.
HOME WHAT'S NEW MUSIC BOOKS MUSIC REVIEWS TRAVEL BOOKS