Unknown Legends of Rock'n'Roll: The CD
The CD compilation accompanying Unknown Legends of Rock'n'Rollfeatures tracks by twelve of the artists covered in these pages. Most of the songs are either out of print or available only on hard-to-locate reissues; many were never even released in the United States. It touches upon some of the most intriguing and unclassifiable sounds discussed in this book, from lost psychedelia and garage rock to Moroccan-dub-rap fusion and quirky independent cassette releases. A track-by-track description follows.
1. John's Children, "Smashed Blocked." "Please...I'm losing my mind!" declares Andy Ellison at the outset of this 1966 single, and as the psychedelic mayhem builds and builds over the next thirty seconds, there's no reason to doubt him. Just before the track freaks itself out into oblivion, it glides into an off-kilter, moony adolescent ballad, punctuated by more strange spaced-out vocals in the periodic choruses. "Nobody had ever done anything like that--ever," claims Ellison today. Recorded well before Marc Bolan (aka T. Rex's) brief stint in the band, it was certainly too strange for the hit parade of the day, though it did make #98 in the U.S. charts and pave the way for the group's legendary banned Orgasm!album. But that's another story...
2. The Music Machine, "Point of No Return." More mid-1960s experimentation on this early Music Machine track, recorded before they signed a deal and crashed the Top Twenty with "Talk Talk." An oblique anti-war statement by leader, singer, and songwriter Sean Bonniwell, whose growling vocals are supported by squealing, strangled guitar leads that were quite forward-looking for the era, although the group's folkier roots are detectable in the acoustic guitar part. This song was available only briefly in the mid-1980s on a flexidisc in an obscure German fanzine, where Bonniwell's spoken introduction obscured the first few bars of the track; this compilation marks the cut's first appearance in its entirety.
3. Cleaners From Venus, "Clara Bow." This paean to the silent film star Clara Bow is among the best work by Cleaners mainstay Martin Newell: witty, nostalgic, British, and instantly hummable, decorated by airy harmony vocals. From their 1986 cassette-only release Living With Victoria Grey, which is full of such mod pop gems.
4. The Rising Storm, "Frozen Laughter." While this Massachusetts prep school band usually played stomping garage rock, this haunting acoustic original, somewhat in the mold of their heroes Love, revealed versatility and songwriting acumen well beyond the scope of the typical 1960s teen group. From the odd spoken opening "Honey, is that you?" to the hazy organ, forlorn harmonies, lyrical quotes from T.S Eliot's "The Wasteland," and snatch of backward tapes that brings it to a close, the cut oozes mystery and an impenetrable sense of loss. It's the highlight of their sole album, originally pressed in minute quantities for themselves and their schoolmates in 1967, and now available as a CD reissue from Arf! Arf! Records.
5. Savage Rose, "A Girl I Knew." When Savage Rose was founded in the late 1960s, recalls keyboardist Thomas Koppel, they strove to create "a new kind of music that had it all--elements from classical and folk and jazz and rock and soul and all of it one go, as one style, not as a mix of a lot of styles." This mysterious, sad cut from their self-titled 1968 debut was one of their most successful attempts at realizing this ambition, anchored by lead singer Annisette's odd lead vocals (which somewhat foreshadow Kate Bush's approach), characteristic swirling keyboards, and an ominous surprise ending of funereal bells that seemed to announce the Grim Reaper itself. This is its first appearance on a US release, though the album has been reissued on CD in their Danish homeland.
6. The Mystic Tide, "Frustration." One of the truly great 1960s garage classics, this leaps out of the speakers and grabs you from the word go, then proceeds to turn the heat up yet several more notches with a supercharged guitar break that was unbelievably unhinged and over-the-top by 1966 standards. Dig also the dueling vocal parts, which find the lead singer and backup dudes delivering totally different sets of lyrics simultaneously--an approach rarely employed to this day in rock music. Real-life "frustration" over the group's lack of success led Mystic Tide leader Joe Docko to throw out most of his copies of the group's rare, locally released 45s many years later, but luckily some survived, and "Frustration"--as well as all of the group's other records--are now available on the Solid Sound/Solid Groundcompilation on Distortions Records.
7. Fapardokly, "Super Market." In a far sunnier mode is this breeze of a psychedelic pop tune, its Son-of-Herb Alpert trumpet lines meshing pleasurably with flamenco guitar runs and sweetly spacy lyrics. Few artists mix commercially accessible elements with such idiosyncratic weirdness as Fapardokly leader, singer, and principal songwriter Merrell Fankhauser; the melody was as appealing as the Byrds or the Mamas and the Papas, yet the execution was too oddball to reach a wide audience. This mid-1960s cut closed Fapardokly's self-titled (and only) album, which was fetching about $500 on the collector's market twenty years later; the LP's contents were finally reissued in the U.S. in the 1990s as a CD on the Sundazed label.
8. The Outsiders, "Sun's Going Down." Not to be confused with the "Time Won't Let Me" Outsiders from Cleveland, these moody beat-punkers of the same name from Amsterdam released dozens of fabulously eccentric tracks in the mid-to-late 1960s. "Sun's Going Down," the B-side of their 1965 debut single, is the high and lonesome sound Dutch style, centered around its high, eerie Aeolian vocal refrain. Outsiders singer Wally Tax describes it as "more or less like a Russian folk melody with a bluesy lyric," typifying the group's blend of R&B with Continental European music. While a few Outsiders cuts have appeared on vinyl compilations of dubious legality, this is the first Outsiders track to be reissued on CD Stateside.
9. Penelope Houston, "Qualities of Mercy." Although this may be the most "normal"-sounding selection on this compilation, such tunes were considered sufficiently uncommercial at the time of its 1991 recording that Houston found herself without a deal in the U.S. This was leagues above most of the singer-songwriter competition, which may have been the problem: it was too dark and complicated to make inroads into the commercial market, and not angry or loud enough to be considered hip at the point when grunge was gaining ascendancy in the alternative rock world. Times have changed since then, but the success of Liz Phair, Aimee Mann, Kristin Hersh, and other moody melodic female folk-rockers hasn't helped Houston escape her cult status yet. This track is from her cassette-only release 500 Lucky Pieces.
10. Savage Republic, "Ceremonial." An apt title (from the mid-1980s album of the same name) from a group whose largely instrumental songs resembled ceremonies or rituals, their oddly tuned guitars, clanging percussion, and insistent riffs building into trance-like states. It's not quite the same without watching Ethan Port burn trash cans of pampas leaves or destroy bookshelves onstage, but this is one of their most effective studio tracks, and representative of their facility for building and maintaining tense momentum.
11. The Deviants, "Nothing Man." The most far-out experiment of their 1967 Ptooff!album is not so much a "song" as a musique concrete composition. Its thundering, rattling percussive effects, distant ghostly choirs, and electronic blips underscore the somber spoken lyrical indictments of the "Nothing Man," a soulless contemporary archetype who can think, but cannot love. "I keep getting these fanzines in the mail where they're cross-referencing it with lo-fi industrial music by bands that I've never heard of," admits Farren of the Ptooff!album, released by the Deviants themselves in 1967 and periodically reissued over the years, though never easy to find at the local chain store.
12. Aisha Kandisha's Jarring Effects, "Sankara." One of the less jarring, if you'll forgive the pun, cuts from this Moroccan group's astonishing 1991 album, El Buya.Opening with a brief fanfare of mutant rap, the track quickly settles into a trancey groove not far removed from traditional Moroccan music. Halfway through the song, however, post-modern elements begin creeping in with searing distorted electric guitars and increasingly dub-echoed vocals By the end it sounds far more like psychedelicized African music than a folk tune, deftly illustrating the band's skill at making familiar ingredients over into something new, even post-modern. The sound of the twenty-first century?
To buy Unknown Legends of Rock'n'Roll:
Unknown Legends of Rock'n'Rollis widely available at both independent booksellers and chain bookstores throughout North America, as well as many such outlets overseas. To order on-line via amazon.com, click on the book cover below.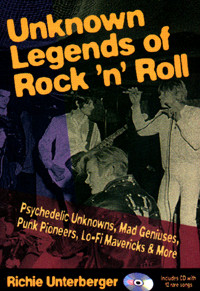 unless otherwise specified.
HOME WHAT'S NEW MUSIC BOOKS MUSIC REVIEWS TRAVEL BOOKS