Unknown Legends of Rock'n'Roll includes chapters on these fabulous underrated icons:
OVERLOOKED ORIGINATORS (great rockabilly singers from the '50s who never had a hit)
The Collins Kids -- Brother-sister duo recorded some of the most white-hot rockabilly of the '50s before either had reached the age of 16. Guitarist Larry Collins played rock'n'roll with a double- neck guitar long before Jimmy Page. They broke up when Lorry Collins married in the late '50s.
Ronnie Dawson -- He looked all of 12 or 13 when he recorded rockabilly as a teenager in the late 1950s. His vocals were so high that he sounded like a prepubescent Gene Vincent. But his records are highly valued by rockabilly fans, especially the frantic "Action Packed.
Wanda Jackson -- Rockabilly was primarily a male field, but Jackson was the one female rockabilly singer who could belt, holler, and growl with the best of them. Perhaps the raunchiest female vocalist in rock prior to Janis Joplin. Returned to country music after the 1950s.
LOST BRITISH INVADERS (the best British Invasion acts never to make it in the U.S.)
Graham Bond -- As bandleader, recorded two albums with Jack Bruce and Ginger Baker before that pair split to form Cream. A pioneer of blues-rock and jazz-rock with a serious dark side. Alleged to have been obsessed with the occult, and accused of molesting his step-daughter. Committed suicide by throwing himself in from of a London subway train in the 1970s.
The Creation -- Their guitarist, Eddie Phillips, pioneered feedback along with Jeff Beck and Pete Townshend. Townshend asked Phillips to join the Who as a second guitarist at one point. Phillips also played his guitar with a violin bow, which inspired Jimmy Page to do the same thing with Led Zeppelin a few years later. Future Face and Rolling Stone Ron Wood was briefly in the mod-psychedelic band before they broke up in 1968.
John's Children -- The most outrageous triumph of image over content in '60s British rock. Couldn't play their instruments when signed by the Yardbirds manager. With the help of session men, recorded wild but poppy psychedelic mod music. Upstaged the Who on a German tour with their over-the-top theatrics. Marc Bolan was briefly a member before becoming T. Rex.
Duffy Power -- A failed British teen idol in the early 1960s. Recorded one of the first covers of a Beatles song ("I Saw Her Standing There," in 1963). Reversed gears and recorded top-notch, but little-heard, blues-rock with musicians like John McLaughlin, Jack Bruce, Ginger Baker, and future members of Pentangle--before any of them became famous.
OUT OF THE GARAGE ('60s American garage bands who never had more than a regional hit--and, in some cases, never had that)
The Chocolate Watch Band -- One of the most famous '60s bands that never had a hit, they were one of the greatest bridges between garage punk and psychedelia. Their career was short-circuited, in part, by producers who would put tracks on their albums that were recorded by an entirely different set of musicians.
The Music Machine -- They had only one hit, "Talk Talk," and are unfairly labeled as a one-hit wonder '60s garage band. Actually they produced quite a few non-hit singles and a couple of albums that qualify as some of the best experimental psychedelia-punk ever made. Sean Bonniwell's dark, mysterious lyrics and the vicious blend of organs and guitars were an unacknowledged influence on the Doors. Bonniwell, now a born-again Christian, recently issued a 400-page tome of memoirs.
The Mystic Tide -- They only released a few singles in the 1960s, and these were usually only available to people who saw them play in the Long Island suburbs. But those recordings are among the most ferocious mixtures of garage punk and psychedelia ever concocted.
The Remains -- Usually classified as the best American band of the 1960s that never broke through the national recognition. Recorded about 20 tracks of excellent pop-rock in a tough British Invasion style, blending the best elements of the Beatles and the Zombies. Toured with the Beatles in 1966 just before breaking up.
The Rising Storm -- A group of high school students at a plush prep school in Massachusetts. They disbanded upon graduation around 1967. But before doing so, they record a limited edition album of moody folk-rock for their fellow students. The result is considered to be one of the finest '60s garage albums of all time.
PSYCHEDELIC UNKNOWNS (the most creative '60s psychedelic bands never to get wide exposure, either in the mainstream or the underground)
The Blossom Toes -- One of the best underground British psychedelic bands of the late '60s. Managed by Giorgio Gomelsky, early mentor of the Rolling Stones, and manager of the Yardbirds and Soft Machine. Their first album was a masterpiece of orchestrated, sunny British pop-psychedelia. On their second and final album, they headed in the opposite direction with a growling, Beefheartian slice of heavy progressive rock.
The Deviants -- Punks before their time who could barely play, they managed to record a brilliant psychedelic album that was a funhouse of flower-power, Stooges-like rage, and experimental sound collage. Lead singer Mick Farren went on to perform with several other bands and become a top rock critic and published poet.
The Great Society -- Grace Slick sang in this group before joining the Jefferson Airplane. Featuring Darby Slick's crystalline, reverberant guitar leads, they were the first San Francisco band to fuse folk-rock with jazzy improvisation and Indian music. They included "White Rabbit" and "Somebody To Love" in their repertoire before the Airplane ever performed those songs. Darby Slick went to India to study Indian music when the band broke up, returning to the States when he heard that his composition, "Somebody To Love," was becoming a hit in the hands of the Airplane.
The Misunderstood -- Yardbirds-inspired California garage band moved to England in 1966 at the instigation of top British DJ John Peel. While there they played some acclaimed shows and recorded some material that anticipated the innovations of Hendrix and Pink Floyd with their range of distorted guitar effects and warped lyrics. This lineup broke up after only a few months due to hounding by U.S. authorities, who were trying to draft a couple of members for the Army.
MAD GENIUSES & ECCENTRIC RECLUSES (performers who have generated devoted cult followings, in part or mostly because of their eccentric behavior and tragicomic lives):
Syd Barrett -- The king daddy of rock's mad geniuses. The original leader, singer, songwriter, and lead guitarist of Pink Floyd, released from the band when he became such an acid casualty that he couldn't perform or record. Released a couple quirky solo albums, and became a total recluse, apparently rarely venturing outdoors these days.
Nick Drake -- The ultimate cult folk-rock singer-songwriter, whose three albums from the early '70s combined breathy vocals, orchestrated pop, stark acoustic arrangements, and brooding meditations on mortality. A virtually unknown during his lifetime, he was barely able to function due to debilitating depression when he died of an accidental overdose at the age of 26. His popularity grows with each passing year.
Roky Erickson -- As the leader of the 13th Floor Elevators, he was one of the premier acid-punks. A drug bust led to his incarceration in a mental hospital in the late 1960s. He's never been the same since, and most of solo songs deal with psychotic visions and horror-movie images. Still playing music, and apparently not capable of holding a coherent conversation.
Lee Hazlewood -- As the producer for Duane Eddy and Nancy Sinatra, he created the lowest, growling rock guitar sound of his era. His sandpaper-and-silk duets with Sinatra are some of the oddest creations ever to hit the pop charts, with their happy-go-lucky arrangements and dark intimations of menacing demons and threatening suitors. His own solo albums of the 1960s offered some of the most twisted folk-pop around.
Love -- By critical acclimation, the best band of the 1960s never to become stars in their own time (with the exception of the Velvet Underground). Considering one of the best L.A. folk-rock bands, and one of the best L.A. psychedelic bands. Their 1967 LP Forever Changes continues to appear on many critics' all-time best lists. One of the very first bands to develop an international underground following, especially in England. Their failure to become stars is attributable to the group's perverse unwillingness to tour outside of L.A. (where they were stars) and leader Arthur Lee's drug problems.
Joe Meek -- One of the most innovative producers of the early '60s, embellishing his records with varispeed vocals, howling wind and storm effects, ghostly organs, and dancing violins--usually recorded in his tiny London flat. Obsessed with outer space travel, Buddy Holly, and the occult. Shot himself in 1967, just moments after shooting his landlady.
Skip Spence -- The drummer in the original Jefferson Airplane, and one of the prime movers of Moby Grape as guitarist/songwriter. Committed to Bellevue Hospital in 1968 for trying to attack the Moby Grape drummer with an axe. Upon his release he recorded one of the top acid-folk albums of all time. His only LP, it vanished from sight upon release, but eventually became revered by underground rock fans and lo-fi '90s artists such as Beck. Today he lives on and off the streets, unable to support himself.
Scott Walker -- With the Walker Brothers, he became part of the British Invasion, although they were neither British, brothers, or named Walker. As a solo act, he topped the British charts at the height of psychedelia with kinky, morose meditations crooned in the style of Tony Bennett. Barely known in America, he became a recluse, rarely appearing in public, dallying with communism, and staying at a monastery while still a pop star. An influence on David Bowie and Bryan Ferry, he's still active today.
FROM THE CONTINENT (the most interesting European rockers from outside the British Isles)
Can -- The most avant-garde rock group of the 1970s, and the leading band of the German "Kraut rock" school. Used electronics, tape cut-ups, and synthesizers, anticipating contemporary trends in avant-rock and electronic composition.
Francoise Hardy -- Billed in the mid-'60s as the "yeh-yeh girl from France." Sultry and sexy, the best French female pop singer of the time. She wrote most of her material, and her singles benefited from excellent Phil Spectoresque production. She did some recording in English, even getting a hit in Britain at the height of the British Invasion.
The Outsiders (from Holland) -- Probably the most innovative '60s band from a non-English-speaking territory. The Dutch group took the British R&B sound of the Stones and the Pretty Things to their speediest and most manic extremes, sometimes adding odd touches like mandolin and found radio static. Their final album, a concept work about changing the universe, is one of the most underrated psychedelic albums.
The Plastic People of the Universe -- The most notorious underground rock band in Eastern Europe. Throughout much of the 1970s, they were officially banned from professional activity by the Czech government. At one point, several of their members were jailed for performing subversive material. Future Czech leader Vaclav Havel wrote some lyrics for them when he was a fellow underground dissident. A spin-off band, Pulnoc, toured the States to acclaim in the early 1990s, and released an album on a major label.
Savage Rose -- One of the most popular bands in Denmark in the late 1960s and 1970s, blending psychedelia, progressive rock, classical music, and European folk. Lead singer Annisette sounds like Kate Bush's sister with her keening, childish voice. Around 1980, they stopped recording professionally for a time, playing mostly benefits to support revolutionary causes.
FOLK MUSIC; ROCK ATTITUDE (folk musicians who changed into folk-rockers and ended up becoming more influential within the underground rock scene than within the folk communities from which they emerged)
Sandy Denny -- Her high, ethereal vocals were the most distinctive in all of British folk-rock. Recorded with three major folk-rock groups (Fairport Convention, the Strawbs, Fotheringay), as well as issuing several solo albums. Died after falling down a flight of stairs in the late 1970s.
Davy Graham -- Folk guitarist influenced the course of British rock by being one of the first musicians to blend western music with middle eastern and North African influences. Recorded with British blues godfather Alexis Korner in the early '60s. Paul Simon learned "Anji" from him, and put it on Simon & Garfunkel's second album.
The Holy Modal Rounders -- Although they didn't use electric instruments until the end of the 1960s, they may have been the original acid-folkies. Played on the Fugs debut album, before the chief Fugs had an opportunity to recruit musicians who could play rock'n'roll. Much of their material was crazed jugband music; when they went psychedelic on The Moray Eels Eat The Holy Modal Rounders, the result was one of the weirdest albums of the '60s. Member Peter Stampfel has remained active in progressive folk circles to this day.
COMIC RELIEF (the best comic cult rockers)
The Rutles -- Not an actual group, but the Beatle parody outfit devised by ex-Monty Python member Eric Idle for an NBC television special. Their songs, written and recorded by ex-Bonzo Dog Band member Neil Innes, are satirical mini-classics of their own. Possibly the only band that never existed to inspire a tribute album.
Screaming Lord Sutch -- One of the few authentic English rock'n'rollers before the rise of the Beatles. He employed Jimmy Page, Jeff Beck, Ritchie Blackmore, and Mitch Mitchell in his bands before they become famous. He's more famous in Britain for running for Parliament several times representing "the national teenage party," and founding one of the first pirate radio stations in the country.
Swamp Dogg -- One of the least classifiable soul performers. He anticipated the freaky funk of the Parliament/Funkadelic axis with his blend of southern soul, swamp music, and Zappa-esque weirdness.
PUNK PIONEERS (unheralded and influential bands from the late-'70s punk/new wave explosion)
The Avengers/Penelope Houston -- From San Francisco, one of the first and best American punk bands. Opened for the Sex Pistols on the last show of their legendary American tour in January 1978. Lead singer Penelope Houston is now a first-rate folk-rock singer-songwriter.
Crass -- A top contender for the most uncompromising band of all time. Their records were punkish, abrasive screeds espousing all manner of left-wing causes. They tried to be consistent with their ideology in their everyday life as well, evolving into an anarchist commune and publisher, overseeing several record labels, and getting into legal trouble with the British government.
The Dils -- One of the very first L.A. punk groups. "I Hate The Rich" is considered one of the best early U.S. punk singles, but they never managed to record an album before disbanding. Veterans of the band turned up in noted alternative rock groups Rank & File and Blackbird.
The Raincoats -- One of the first all-female punk bands, and one of the most experimental. Nirvana's Kurt Cobain was enough of a fan to write liner notes in appreciation of the band when their CDs were reissued in the mid-1990s.
Rocket From the Tombs -- They never recorded officially, but their lineup included original Pere Ubu members David Thomas and Peter Laughner, as well as future Dead Boys leader Stiv Bators. Their unreleased tapes from 1975 anticipate much of what would become de rigeur in punk music with their scabrous guitars and harsh, alienated rage. Laughner died of a drug overdose in 1977, and now has an underground following of his own.
X-Ray Spex -- One of the early British punk groups. Broke unwritten rules by featuring an overweight, mulatto teenager with braces as the lead singer. Also featuring the screeching saxophone of Lora Logic, and confrontational material like "Bondage Up Yours." Released only one album; after the group broke up, lead vocalist Poly Styrene joined a Hare Krishna sect.
POST-PUNK HYBRIDS (fascinating acts who merge punk/new wave with all manner of outside influences--film music, dub reggae, Swiss yodels, tribal rhythms, and more--to come up with sounds that are unclassifiable even within the post-punk underground)
Aisha Kandisha's Jarring Effects -- From Morocco, they were one of the few "world music" groups to effectively incorporate rap and dub into the traditional sounds of their native land. Ironically, their music is virtually unavailable in Morocco, because its radical musical and lyrical elements would incur such wrath. Their second album was produced by top avant-rocker Bill Laswell, and included cameos from members of the Last Poets and Parliament/Funkadelic.
F.S.K. -- In the early 1980s, this German group began as a noisy, political punk band that wore surplus Germany army clothing and never spoke to the audience. A few years later, they decided to change radically, devising a post-modern fusion of polka, Central European folk, free jazz, and satirical cover songs. Still active today, with ex-Camper Van Beethoven leader David Lowery aboard as a full-time member.
Savage Republic/Bruce Licher -- Starting by playing metal objects in the utility tunnels underneath UCLA, they evolved into one of the top trance-guitar-post-punk bands of the 1980s. Constantly experimenting with different guitar tunings, they determined to make almost every live show an event, with appearances at the Mojave Desert, a Great Peace March benefit, and a parking lot at Skid Row in downtown Los Angeles, often setting fire to trashcans of pampas leaves to fuel the climax. Guitarist Bruce Licher ran Independent Project Records, which individually hand letterpressed every release (including the first Camper Van Beethoven album).
LO-FI MAVERICKS (artists who have taken the do-it-yourself ethic to new levels by recording their music at home or outside professional studios, more concerned with feeling and expression than technique)
The Cleaners From Venus/Martin Newell -- This British group, active since the early 1980s, has inspired favorable comparisons to XTC with their goofy humor, intoxicating harmonies, and command of pop-rock traditions. They prefer to keep a perversely low profile, though, releasing most of their music on cassette only.
Chris Knox -- The father of New Zealand punk/new wave/alternative rock. Singer of one of the first NZ punk bands, Toy Love. Pioneered lo-fi experimentalism as half of Tall Dwarfs. Still active today as a solo performer.
ONE SHOT WAS ALL THEY GOT (great bands that only managed to make one album before they fell apart--or who, in one case [The Rising Sons], didn't even get to make an album)
The Blue Things -- The best unknown folk-rock band of the mid-1960s. From Lawrence, Kansas, their best work stands up to the best recordings of the Byrds and Beau Brummels. Recorded only one album and a few singles.
The Free Spirits -- Perhaps the first jazz-rock group. Their one album, from 1966, featured a young Larry Coryell on guitar. The LP was colored by psychedelic effects such as sitar and a song with two entirely different vocal tracks that simultaneously sang different lyrics.
The Hampton Grease Band --a crazed early '70s fusion of psychedelia, blues, jazz-rock, and Captain Beefheart-like weirdness. Their album was, along with Skip Spence's Oar, rumored to be the lowest-selling item in the Columbia catalog. But like Spence's LP, it picked up a cult following. Hampton made a successful comeback as an indie solo artist in the 1980s.
Judy Henske & Jerry Yester -- A folk-pop singer-songwriter (Henske) and a minor pop-rocker (Yester, formerly in the Association and the Lovin' Spoonful) joined forces for a duo album on Frank Zappa's Straight! label in 1969. The result was one of the strangest relics of a very strange era, showcasing Henske's astounding vocal range on oddball takes of country-psychedelia, gothic pop, and primitive synthesizer experiments. Neither musician had produced anything like it in the past; neither would produce anything like it again.
The Monks -- American servicemen stationed in Germany formed a band, shaved their heads, and performed pre-punk songs about nihilistic rage prominently using an electric banjo -- in 1966. Their one album, only released in Europe, is now one of the most highly regarded cult efforts of the 1960s.
The Rising Sons -- A supergroup before the term existed. This L.A. blues-folk-rock group included Taj Mahal, Ry Cooder, and future members of Spirit and the Byrds. They only released a couple of singles during their existence, but an album's worth of unreleased material was issued in the early 1990s. This shows them to be a highly accomplished and eclectic outfit in the mold of the Byrds, Moby Grape, and Buffalo Springfield, but rootsier.
Tomorrow -- Along with Pink Floyd and Soft Machine, they were one of the most respected early underground British psychedelic bands. Featured Steve Howe on guitar before he joined Yes. Leader Keith West recorded a mini-opera single, "Excerpt From A Teenage Opera," that reached #2 in the U.K., and helped inspire the Who's "Tommy."
The United States of America -- One of the most experimental groups of the psychedelia era. Formed at UCLA by serious contemporary composers who wanted to get in on the rock scene. Their sole album used then-novel electronics, electric violin, ring modulator, and calliope.
Young Marble Giants -- A British post-punk trio that performed brooding, minimalistic electronic punk-pop that was apparently only appreciated, in the best underground tradition, by listeners who went on to form their own bands. YMG members Stuart Moxham and Allison Stratton went on to idiosyncratic solo careers.
LAWS UNTO THEMSELVES: ROCK ENIGMAS (veterans who have maintained a vibrant cult career spanning several decades and several styles, although rarely if ever attaining commercial success)
Kevin Coyne -- British singer-songwriter has recorded over 30 albums of angst-ridden folk-rock. Often deals with misfits and victims of abuse, partially as a result of his work as a therapist for alcoholics and the emotionally disturbed. Also an acclaimed author of short stories.
Merrell Fankhauser -- As singer-songwriter, he led not one but three cult groups between the mid-'60s and mid-'70s: Fapardokly (sparkling folk-rock in the early Byrds tradition), HMS Bounty (pop-psychedelia with country, blues, and folk leanings), and Mu (spaced out, bluesy psychedelia featuring slide guitarist Jeff Cotton, formerly in Captain Beefheart's band).
The Red Krayola/Mayo Thompson -- One of the first acts to combine rock and found sound in a way that anticipated industrial music--in 1967. Leader Mayo Thompson was one of the few 1960s rock musicians to play an active role in the punk and post-punk eras.
Doris Troy -- Usually dismissed as a one-hit wonder, with a 1963 top 10 single to her credit ("Just One Look"). One of the few female soul-pop performers of the time to write most of her material, she recorded many fine singles that blended early soul, pop, rock, and girl-group styles. Then she moved to England, and recorded an album for the Beatles' Apple label that also featured George Harrison, Stephen Stills, and Eric Clapton.
Robert Wyatt -- As drummer and singer, a pillar of the Soft Machine, the noted progressive-psychedelic British group of the late 1960s. Went on to a lengthy solo career after becoming paralyzed from the waist down in a 1973 accident. One of the few '60s veterans active in the indie rock/post-punk movements of the '80s and '90s. Also a political activist, author, and one of the most leftist rock musicians of any sort.
PLUS SIDEBARS ON:
1960s garage rock
Mad Geniuses
Idiot Savants (the Shaggs, the Godz, Wild Man Fischer, Hasil Adkins, Half Japanese, Jandek, Wesley Willis)
Eurobeat (overview of best '60s bands from non-English-speaking countries)
Kraut rock (early '70s German progressive/electronic rock)
Eastern Bloc rock (rock behind the Iron Curtain)
The ESP label (home of the Holy Modal Rounders, the Fugs, Pearls Before Swine, and other way-out '60s music)
The Flying Nun label (New Zealand's leading indie rock company)
Home Tapers (artists who use home-recorded cassettes as their primary medium)
Lo-fi rock overview
To buy Unknown Legends of Rock'n'Roll:
Unknown Legends of Rock'n'Roll is widely available at both independent booksellers and chain bookstores throughout North America, as well as many such outlets overseas. To order on-line via amazon.com, click on the book cover below.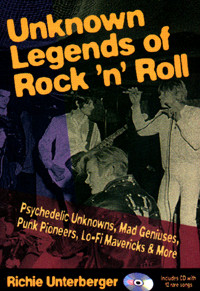 unless otherwise specified.
HOME WHAT'S NEW MUSIC BOOKS MUSIC REVIEWS TRAVEL BOOKS