SECOND DEGREES OF VU SEPARATION

Although the Velvet Underground are sometimes portrayed as existing in near-total-obscurity totally out of the mainstream of 1960s rock culture, in fact they intersected with—and sometimes even influenced—many major shakers and movers between 1965 and 1970. Starting with the most famous rock group of all, some of them include:



The Beatles:

Brian Epstein, manager of the Beatles, liked the Velvet Underground's first album and was considering getting involved with them in some capacity in 1967. This might have entailed helping arrange for some VU gigs in Britain and Europe—something the Velvets had several opportunities to do while Lou Reed was in the band, but unfortunately something that never came to pass. VU manager Steve Sesnick also tried to interest Epstein in making a publishing deal for the Velvets' songs. But the Velvet Underground decide to hang onto their publishing, and in any case Epstein died on August 27, 1967.

In a semicomic incident, Lou Reed himself met Brian Epstein around spring 1967 when, at publicist Danny Fields's instigation, Reed finagled a cab ride with the Beatles manager in New York in the hopes that some interest in the VU's affairs might be ignited. Evidently nothing came of it, however, other than Epstein sharing a joint with Reed and telling Lou how much he liked the banana album.

In Richard Witts's biography

Nico: The Life & Lies of an Icon

, she claims to have been in attendance at the private party Brian Epstein threw at his home on May 19 to preview the Beatles'

Sgt. Pepper's Lonely Hearts Club Band

for the press. "There is a song I liked on

Sgt. Pepper

, called 'A Day in the Life,'" she states in the book. "It has a beautiful song and then this strange sound like John Cale would make (he told me it was an orchestra, actually) and then this stupid little pop song that spoils everything so far. I told this to Paul [McCartney], and I made a mistake, because the beautiful song was written by John Lennon and the stupid song was written by Paul. It can be embarrassing when you speak the truth." The book also reports that she briefly stays in Paul McCartney's home during that May visit.



The Rolling Stones:

Quite heavy connections were laid between the Stones and the Velvets, albeit mostly via Nico, who met Brian Jones in March 1965 and had a brief affair with him. Rolling Stones manager/producer Andrew Oldham arranged for her to put out her sole pre-VU single, "I'm Not Sayin'"/"The Last Mile," on his Immediate label in the UK that summer. Jones played guitar on the single, and later that year, before the VU had met Nico, briefly met John Cale in New York when Cale somehow managed to get a limousine ride with him and Carole King. Nico would later accompany Brian Jones to the Monterey Pop Festival in June 1967, where Jones introduced Jimi Hendrix at his first major American concert.

Of perhaps more note is that the Velvet Underground are confirmed to have directly influenced an actual well-known late 1960s Rolling Stones recording. As Mick Jagger confessed to Nick Kent of

NME

in June 1977, "Even we've been influenced by the Velvet Underground. No, really. I'll tell you exactly what we pinched from [Lou Reed]. Y'know 'Stray Cat Blues' [from the Rolling Stones' 1968 album

Beggars Banquet

)? The whole sound and the way it's paced, we pinched from the first Velvet Underground album. Y'know, the sound on 'Heroin.' Honest to God, we did!"



Jim Morrison:

The Doors' lead singer and Nico had a serious and passionate affair around the summer of 1967, though apparently not so serious that Morrison was tempted to leave his primary girlfriend of the last five years of his life, Pamela Courson. More importantly, Morrison was the single biggest influence in inspiring Nico to begin writing her own songs (as well as in her decision to dye her hair red, knowing how much he liked the redheaded Courson).



Eye

magazine, revealed Danny Fields in the 1970 book

Age of Rock 2

, took his suggestion to set up a photo shoot with Nico and Jim Morrison for "a series on beautiful couples...But Morrison refused to do it, and he was angered and he said don't ever do that without asking me about it first. He was really pissed at me, and Nico was hurt that he didn't want to pose with her...But you just don't tell him what to do." (One would think that Jim might also be wary of angering his volatile core girlfriend, Pamela Courson, with such a public posed picture of himself with another beautiful woman.) Ex-UCLA film student Morrison, added Fields in the same interview, "said that someday he would do a movie and Nico would be in it, but he wasn't going to have his picture taken with her for Eye magazine"—and, as it turns out, he never did that movie with Nico either, though apparently it was hoped that he'd appear with her in the 1967 Andy Warhol movie

I, a Man

.

Prior to this, Morrison had seen the Velvet Underground at their first California shows at the Trip in Los Angeles in May 1966, a gig at which the then-unsigned Doors might have played some shows as the support act if the engagement hadn't been canceled after a few days. Some have speculated that the dress and image of one of the Exploding Plastic Inevitable's dancers, Gerard Malanga, influenced Morrison's own appearance as Doors frontman. Morrison also attended a couple of the Velvet Undergrond's shows at the Whisky-A-Go-Go in Los Angeles in late October 1968 with his actor friend who'd ended up playing alongside Nico (and several other women) in

I, a Man

, Tom Baker.

To dispel a mini-myth, the television documentary

Rock & Roll

, widely screened on both the BBC in the UK and PBS in the US, is almost certainly mistaken when its narrator solemnly asserts that Jim Morrison, "a young film student, had seen [the Velvet Underground] in San Francisco and was inspired to start writing songs himself with his band the Doors." First, the notion that the Velvets inspired him to start writing songs is laughable; when the Doors formed back in the summer of 1965, Morrison had already written the backbones of several songs the Doors would record on their early albums, and in fact decided at that time to form the band with keyboardist Ray Manzarek after singing one of them, "Moonlight Drive," to him on a Los Angeles beach. And on the weekend of May 27-29 (the only time the Velvets played San Francisco, at the Fillmore, before the Doors recorded their first album), Morrison was almost certainly not in San Francisco, as the Doors were in the midst of the first week of a residency at the Whisky-A-Go-Go in Los Angeles—a residency they'd been dying to get.

"The VU influenced the Doors?" said Ray Manzarek when interviewed for

White Light/White Heat: The Velvet Underground Day By Day

. "How? Musically? No chance. They couldn't play. We were working John Coltrane modal territory. Miles Davis was our influence. Lou Reed influence Jim? Lyrically? Jim was coming from a point of cosmic consciousness. Carl Jung. Friedrich Nietzsche. Lou was New York street hustler punk. Great, but not Morrison. No way. They did have a nice junkie rush, however. I liked that. A punk band before its time." And as Ray also confirmed, "Jim liked Lou Reed's lyrics a lot. Dark, New York, gay and junkie. Almost like John Rechy in

City of Night

"—the 1963 novel whose title the Doors would use as a key lyric of their classic "L.A. Woman."



Bob Dylan:

Dylan had a brief affair with Nico in Europe in the spring of 1964, during which, she later claimed, he wrote the song "I'll Keep It with Mine" about her and her small son. She caught up with him again in London about a year later, and can be seen talking with Dylan's manager Albert Grossman in outtakes from the Dylan documentary

Dont Look Back

issued as part of the

Dont Look Back 65 Tour Deluxe Edition

DVD in 2007. Around that time Dylan, after some pestering from Nico, did a one-take piano demo of "I'll Keep It with Mine" at an unspecified London studio. The recording was pressed onto an acetate demo that's probably the one Nico later remembers (in

What Goes On #3

) as having been "sent" to her by Dylan "because he had promised me a song for my singing," though maybe it was simply given to her right after it was cut.

In a 1986 interview with Melbourne radio station 3RRR-FM, Nico claimed that Albert Grossman "bought me a ticket and said I should come over [to New York], that he can only do something for me over there." If that's the case, however, a management agreement between her and Grossman never seemed to solidify after she arrived in the city in late 1965. She remained determine to record "I'll Keep It with Mine," though, even though Judy Collins beat her to the marketplace with a version of a song on a mid-'60s single (Dylan not releasing a version of his own in the '60s). She even sang it at some early Velvet Underground performances, over the reluctance of the group, who didn't like the song or want to do outside material in general. She finally did get it on record on her first album, 1967's

Chelsea Girl

.

From the first known recording of "Heroin" (a May 11, 1965 demo that still hasn't been bootlegged) and the July 1965 VU demos that appear on the

Peel Slowly and See

box set, it seems apparent that Lou Reed was noticeably influenced by Dylan's singing (and, in the July 1965 demo "Prominent Men," songwriting) in his early days, though that influence would soon disappear. It's not known if Dylan heard or even had an opinion about the Velvet Underground, however. It's certainly unlikely, as the

Rutgers Daily Targum

claimed on March 2, 1966, that "Bob Dylan may be in the audience" (at a show at Rutgers University the following week), and even less so that "Dylan and the Velvets attend each others' concerts," as the article also reported.



The Yardbirds:

Though actual personal interaction between the bands was probably slight, the Yardbirds did share a bill with the Velvet Underground (and numerous other bands) in Detroit on November 18-20, 1966. More interestingly, the Yardbirds probably became the first big-name band to be influenced by the Velvet Underground—at least to the extent that they became the first such band to cover a Velvet Underground song—when they hear d"I'm Waiting for the Man," purchasing the group's debut album soon after it comes out in 1967, and even adding "I'm Waiting for the Man" to their live repertoire.

"We heard it and thought, 'This is quite a good song, isn't it?'" Yardbirds drummer Jim McCarty told Will Shade of

Ugly Things

magazine decades later. "We probably did it because we were low on ideas and were looking around for material. We played it with the Jimmy [Page] lineup." Adds Yardbirds bassist/guitarist Chris Dreja in the same interview, "We did that very occasionally, when odd bits of material by other artists showed up in our set. That actually might have been Jimmy who wanted to do it. Good call on his part." A lo-fidelity but interesting tape survives of them playing "I'm Waiting for the Man" (albeit segueing in and out of "Smokestack Lightning") at one of their final shows, at the Shrine Hall Exposition in Los Angeles on May 31, 1968.



David Bowie:

Bowie did not have his first hit single in the UK until 1969 (and did not become popular in the US until three or four years after that), and didn't meet any of the Velvets until 1971. But there can be no doubt that Bowie was the first rock star to count the Velvet Underground as a major influence, and that he in turn did more than any other early-'70s rock star to popularize the group and their material. It's not as commonly known that Bowie was actually one of the first British residents of any sort to hear the Velvet Underground after his manager of the time, Kenneth Pitt, brought him back an acetate of the banana album after a visit to New York in late 1966. Bowie became an immediate fan of the album, putting "I'm Waiting for the Man" into his live set within months. He even recordied an outtake on April 5, 1967 (since frequently bootlegged), "Little Toy Soldier," which lifts some lines from "Venus in Furs" word for word. An outtake of "I'm Waiting for the Man" might date from this session as well, and Bowie went on to perform "I'm Waiting for the Man" and "White Light/White Heat" on the BBC in the early 1970s, as well as write "Some V.U., White Light returned with thanks" next to "Queen Bitch" on his handwritten track list on the back cover of his 1971 LP

Hunky Dory

. By the following year, of course, he was instrumental in helping to launch Lou Reed's solo career as co-producer of Reed's

Transformer

album.

The only time Bowie saw the Velvet Underground, however, was in early 1971, by which time Reed had left the band. Sometime during the VU's two-night stint at the Electric Circus on January 29 and January 30, the Velvets were paid a surprise visit by the up-and-coming star, though the ensuing ghoulish case of mistaken identity makes it hard to know whether to laugh or cry. "I remember this English kid coming backstage, and I was holding forth as if I was somebody, feeling very self-important as the leader of this band," Doug Yule told

Record Collector

in September 2001. "He came in, and obviously assumed I was Lou Reed, and so I had to explain that Lou wasn't there. It was only a few years ago that I heard the story back from someone else, and realized that the English kid was David Bowie. In 1971, I'd never heard of him!"



Pink Floyd:

It's not known whether Pink Floyd heard the Velvet Underground in the 1960s, and very doubtful that they actually met them. But the Velvets certainly came to the attention of Peter Jenner, who co-managed Pink Floyd from around mid-1966 to early 1968. After hearing some unreleased Velvet Underground demos that were circulating in London (and almost certainly predated the banana LP sessions), Jenner was intrigued enough to call John Cale in the US with an eye to managing the group. Laughed Peter in his interview for

White Light/White Heat: The Velvet Underground Day By Day

, "He told me to fuck off, I think, in a very nice way. 'That's alright —we have someone who does that for us,' you know. I think Cale said something about how they were with Andy Warhol, and I'd heard of Andy Warhol, so I was very impressed. 'Oh wow, they're okay, that's a shame, next please'—I mean, it was as short as that. It was a very short conversation, 'cause back in those days, Transatlantic phone calls were very expensive. John Cale was very pleasant to me in a so-slightly patronizing way, which is fine. It's what I deserved. It was a real amateur hour approach."



Jackson Browne:

The man who epitomized the 1970s Southern Californian singer-songwriter genre is one of the least likely guys you'd associate with the Velvet Underground in their prime. Yet in early 1967, the still-teenaged and unsigned Browne was for a brief period not only Nico's guitarist and supporting act for weeks during her long-running stint at the Dom club in New York, but also her boyfriend. Still technically in the Velvet Underground at that point, Nico began to record her debut solo album,

Chelsea Girl

, early that spring, which included three songs that Browne wrote or co-wrote, Jackson also helping out on guitar. After the session on which he played, he went with Lou Reed to see the Murray the K Show rock revue in New York, which featured Cream, the Blues Project, Jim and Jean, and Wilson Pickett.



Michelangelo Antonioni:

The great Italian film director expressed interest in featuring the Velvet Underground in the club scene in his classic 1966 movie

Blow-Up

, shot in London. It's not certain that the Velvets would have been in the film even had they agreed to the proposition, since it's known that Antonioni also made overtures to at least three other British bands (the Who, the Yardbirds, and Tomorrow). It ended up being the Yardbirds, in their lineup with both Jeff Beck and Jimmy Page as guitarists, who played the scene, Beck famously smashing his guitar onscreen. According to Sterling Morrison, although the Velvets were willing to take the role, the plan fell through due to a combination of visa/work permit problems and the expense of bringing the group and their entourage to England.



Federico Fellini:

More than six years before joining the Velvet Underground, Nico took a small but memorable role in what's probably the Italian director's greatest and most famous film,

La Dolce Vita

. In spite of a lengthy musical career that lasted from the mid-1960s to the late 1980s, this role remains what she's most famous for to the general public.



Serge Gainsbourg:

One of the giants of twentieth-century French pop music, and now with an expanding international cult, Gainsbourg too had a fleeting association with Nico when he recorded a demo tape for Philips Records around late 1962 of her singing "Strip-Tease." This was the theme song he co-wrote for the movie of the same name, with Nico's only starring role in an aboveground commercial film. Still unknown even to many Velvet Underground fans, the demo—Nico's only known pre-1965 recording—finally surfaced on the three-CD Gainsbourg box set

Musiques de Films 1959-1990

, issued by Universal in France in 2001.



John Cage:

One of the giants of twentieth-century avant-garde music had his own pre-VU moment when John Cale was one of the pianists at a performance of 840 consecutive renditions of Erik Satie's "Vexations." Organized and overseen by Cage, this took place at the Pocket Theater in New York on September 9-10, 1963. A photo of Cale playing piano at the event appeared in the

New York Times

, marking

his

greatest media exposure in the 1960s, the Velvet Underground years included.



Terry Riley:

One of the most acclaimed contemporary composers replaced Cale in La Monte Young's group in late 1965, and went on to collaborate with John on the 1971 album credited to both of them,

Church of Anthrax

.



Jimi Hendrix:

Hendrix saw the Velvet Underground at one of their shows at the Whisky A Go Go in late October 1968. He told the band afterward, as Doug Yule recalled in a 1996 issue of the fanzine

The Velvet Underground

, that "he loved the music and the energy." Hendrix was in Los Angeles recording at T.T.G. Studios, the same facility the Velvets would soon be using to record their third album, and it might also have been around this time that Jimi "expressed disbelief to us that we weren't bigger than we were," as Sterling Morrison remembered in the BBC

Curious

documentary. Hendrix and the VU also crossed paths at sessions at the Record Plant studio in New York, which both artists used in 1969.



Frank Zappa & the Mothers of Invention:

Apparently these weren't pleasant interactions; see another page on this website, "What Really Goes On: 22 Myths and Legends about the Velvet Underground that

White Light/White Heat: The Velvet Underground Day By Day

investigates, explodes, and clarifies," for a fuller rundown on the Mothers-VU rivalry. Still, it's worth noting that the Velvets and Mothers played together on bills in both Los Angeles and San Francisco at the VU's first California shows in May 1966, at a time when both acts had just been signed to Verve Records, and neither had released their first discs.

John Cale later remembered Zappa putting down the Velvet Underground onstage in Los Angeles, igniting an almost inexplicable long-running animosity of sorts between Zappa and the Velvets. "I don't remember him actually putting them down onstage, but he might have," said Mothers of Invention drummer Jimmy Carl Black in his interview for

White Light/White Heat: The Velvet Underground Day By Day

. "He really disliked the band. For what reasons I really don't know, except that they were junkies and Frank just couldn't tolerate any kind of drugs."

Black also emphasized, "I know that I didn't feel that way and neither did the rest of the Mothers. I thought that they were very good, especially Nico (whom I secretly fell in love with, or was it lust). I especially thought that Moe was a very good drummer, because in those days I don't recall there being any other female drummers on the scene." Yet, he concedes, "the thinking of the audiences was completely different than those from New York City. They were lukewarmly received."



Bill Graham:

The Velvet Underground's experiences with the most famous American rock promoter were yet less pleasant, and the group never worked with him after some shows in late May 1966 at the Fillmore in San Francisco. The dislike the Velvets and their entourage had for Graham has been expressed in numerous sources. For his part, Graham had this to say in the March 10, 1968

Los Angeles Times

. "A prime example of my bringing in something I don't like was the Andy Warhol show," he told Leonard Feather. "I thought it was important that if anything has that much notoriety, it should be exposed for what it is. Notified the press in front that I was doing it for just that purpose. So he brought in the show, with the Velvet Underground and the film with the perverted scene and the whole bit; the worst piece of entertainment I've ever seen in my life. It was supposedly geared toward the concept of what's happening to youth today; but when you looked at it, what was it? Negativism. Everything was anti. It was sickening, and it drew a real Perversion U.S.A. element to the auditorium. The only thing that saved the day was, I brought in the Mothers of Invention, for protection."

Added Graham, "In itself the Warhol thing made a great point, because it really showed what I wanted to say. 'Look, America, look what you've chosen as your artistic hero.' Sure, we made a lot of money, but at the end of the show, in answer to the question 'when do you want to have us back?,' I simply told Mr. Warhol that I never wanted to see him in the auditorium again."

For their part, some of the Velvets and their associates felt that Graham's light show of the time was laughably primitive, and that he subsequently put some of their ideas in that regard to use in the shows he presented over the next few years. Doug Yule remembers this being discussed within the band even after he joined in late 1968, more than two years after the concerts. "This is one of Sterling's rants that he would go on: they felt that when they showed up with the Exploding Plastic Inevitable that Graham was doing like kindergarten-level light shows, and they kind of opened his eyes and then he ripped 'em all off, took all our ideas and put that out as his own," he said in his interview for

White Light/White Heat: The Velvet Underground Day By Day

. "Which always seemed to me kind of like sour grapes. But there was that element; that was something that was talked about from time to time."



Betsey Johnson:

A classmate of Lou Reed's at Syracuse University, she designed clothes for the Velvet Underground and married John Cale in 1968 (divorcing him a few years later). She later became, and today remains, one of the most famous fashion designers in the world.



Marianne Faithfull:

On a visit to London in 1965, John Cale managed to get a copy of Velvet Underground demos into the hands of Marianne Faithfull. The hope was that she'd pass it to Mick Jagger, with whom she had shared manager-producer Andrew Loog Oldham, and who was producing Nico's first single in London this very summer. But Faithfull closed her door without even letting John inside.



Jimmy Page:

In addition to playing "I'm Waiting for the Man" live while he was with the Yardbirds, Page co-wrote (with Rolling Stones manager Andrew Loog Oldham), produced, and played guitar on "The Last Mile," the B-side of Nico's 1965 single. Nico was dismissive of the effort in retrospect, commenting in a 1979 interview published in Kristine McKenna's

Book of Changes

anthology, "I made a single once with Jimmy Page but it was a failure both artistically and commercially. Page's music was like cement."



Tim Buckley:

Briefly backed Nico on guitar during her residency at the Dom in New York in early 1967, at which he also served as her supporting act for a similarly brief period.



Tim Hardin:

Reported to have briefly backed Nico on guitar during her residency at the Dom in New York.



Ramblin' Jack Elliott:

Reported to have briefly backed Nico on guitar during her residency at the Dom in New York.



Leonard Cohen:

Infatuated with Nico in the late 1960s, he saw many of her early solo appearances. Nico is reported to have been at least part of the inspiration for his songs "Memories," "Take This Longing," and "Joan of Arc." Cohen also met Lou Reed around this time, and was pleasantly surprised to find that Lou already had a collection of his poems, Flowers to Hitler, that had yet to be published in the United States. Reed asked Leonard to sign his copy, and also played some of his own songs to Cohen, who liked them very much.



Elton John:

Well known as a longtime fanatical record collector, Elton John was likely one of the earliest British stars to hear and appreciate the Velvet Underground. On January 2, 1971, just as he was starting to emerge as a star singer-songwriter, he was the guest for

Melody Maker

's "Blind Date" column, which played tracks to celebrity musicians and asked them to identify and comment upon the songs. John immediately guessed that it was the Velvet Underground when he was played "Rock & Roll," even though Loaded wouldn't be out in the UK for a couple months. "Great album...the best I heard in the States," he enthused. "I've never been a Velvet Underground freak, so it was something of a surprise to me. It's just a simple, relaxed album. They're a strange band, too...they made this album and apparently disappeared."



Robbie Robertson:

The future Band guitarist, then recently enlisted to be (with other future Band members) part of Bob Dylan's backup group, checked out the then-unknown Velvet Underground in late 1965 at the behest of the group's manager of sorts at the time, Al Aronowitz. Robertson, never one for far-out sounds, left after just one song, exclaiming to Aronowitz, "I can't take no more a [sic] this!"



Mick Farren:

In the 1960s, the future top rock critic and, these days, prolific novelist and author was singer in London underground band the Deviants. After managing to hear unreleased pre-banana album demos that were circulating in London, the Deviants probably became the first band to cover Velvet Underground songs in concert.



Buffalo Springfield:

Not the first major '60s rock group you'd think to associate with the Velvet Underground. But in May 1966, Sterling Morrison—bored with staying at the Castle, the home that had been rented for the Velvets for their trip to Los Angeles—moved to the Tropicana hotel near Sunset Strip, where he partied with members of the Springfield.



The Grateful Dead:

Though probably considered the ultimate antithesis to the Velvet Underground among major 1960s rock bands, there were tenuous connections between the VU and the Dead. Hetty MacLise, wife of original Velvet Underground drummer Angus MacLise, was briefly a girlfriend of the Grateful Dead's Pigpen, and, in an interview with the fanzine

Bananafish

, remembered playing tanpura on the Dead's version of "Dark Star" that was released as a 45 in 1968. The Dead and the Velvets also shared the same bill not just once, but twice, in 1969. Coincidentally, both groups also used the name "the Warlocks" before settling on different ones.



Loudon Wainwright III:

It was with singer-songwriter Wainwright -- then yet to release a record -- that original Velvet Underground drummer Angus MacLise and his wife, Hetty MacLise, were busted for marijuana possession during a cross-country drive in spring 1968.



Lincoln Swados:

A paranoid schizophrenic widely known in the Lower East Side for playing music in the streets for many years before his death in 1989. In the early 1960s, he was Lou Reed's roommate at Syracuse University. Lincoln is written about extensively in

The Four of Us: The Story of a Family

, the memoir of his sister Elizabeth, a famous composer of musicals, with 1978's Runaways getting nominated for five Tony Awards; she'd later collaborate on musicals with

Doonesbury

cartoonist Garry Trudeau. Lincoln's travails are later reported to have inspired songs on Reed's 1983 solo album

Legendary Hearts

("Home of the Brave") and his 1992 album

Magic and Loss

("Harry's Circumcision," as verified by an interview in the press kit for that record).



Vaclav Havel:

In April 1968, the Czech playwright attended the English-language premiere of his play

The Memorandum

at the Public Theater in New York. During his six-week visit to the city, he was urged by a Czech-American friend to buy

White Light/White Heat

or

The Velvet Underground & Nico

(the specific album cited has varied according to the account). Whichever LP or LPs were purchased, Havel did so, and became a fan of the group. He remained one over the course of the next two decades, during which time he also became involved with the dissident human rights organization Charter 77, formed in his native country after the jailing of musicians from the VU-inspired Plastic People of the Universe in the mid-1970s. By the late 1980s, he and the movement were instrumental in restoring democracy to the Czech Republic. The nonviolent transition was, not coincidentally, dubbed the Velvet Revolution, with Havel becoming the country's first post-Communist era president on December 29, 1989.



Major musicians with whom the Velvet Underground shared bills from 1965-1970:

Charles Larkey (of the Myddle Class, later husband of and collaborator with Carole King); Dave Palmer (of the Myddle Class, later singer with Steely Dan); the Fugs; the Mothers of Invention; the Yardbirds; Larry Coryell (as guitarist in the Free Spirits); Chris Stein (later of Blondie); the United States of America; Peter Wolf (later of the J. Geils Band); the Chambers Brothers; Dr. John; the Electric Flag; Iron Butterfly; Quicksilver Messenger Service; Sly & the Family Stone; the Paul Butterfield Blues Band; the Rockets (later to evolve into Crazy Horse); Tim Buckley; the Nazz (with Todd Rundgren); Chicago (then known as the Chicago Transit Authority); the Sir Douglas Quintet; the Flamin' Groovies; Canned Heat; the MC5; the Holy Modal Rounders; the Grateful Dead (twice!); Spirit; the Nice (with Keith Emerson); Taj Mahal; the Allman Brothers; Van Morrison; Bobby Blue Bland; Jonathan Richman.



Celebrities in the audience at Velvet Underground concerts between 1965-1970 included:

Robbie Robertson; Ellen Goodman (later one of the nation's most popular syndicated columnists); Salvador Dali; Robert Rauschenberg; Allen Ginsberg; Frank Sinatra; Senator Robert F. Kennedy and his wife Ethel; George Plimpton; film director Mike Nichols; Sonny & Cher; John Phillips and Cass Elliot of the Mamas & the Papas; actor Ryan O'Neal; Jim Morrison; actor Severn Darden; Stokely Carmichael; Lawrence Kasdan (director of

The Big Chill

); choreographer Merce Cunningham; New York Senator Jake Javits; David Rockefeller Sr.; David Rockefeller Jr.; William Gibson; Jimi Hendrix; Robert Quine; Chrissie Hynde; Jonathan Richman; Jim Carroll; Deborah Harry.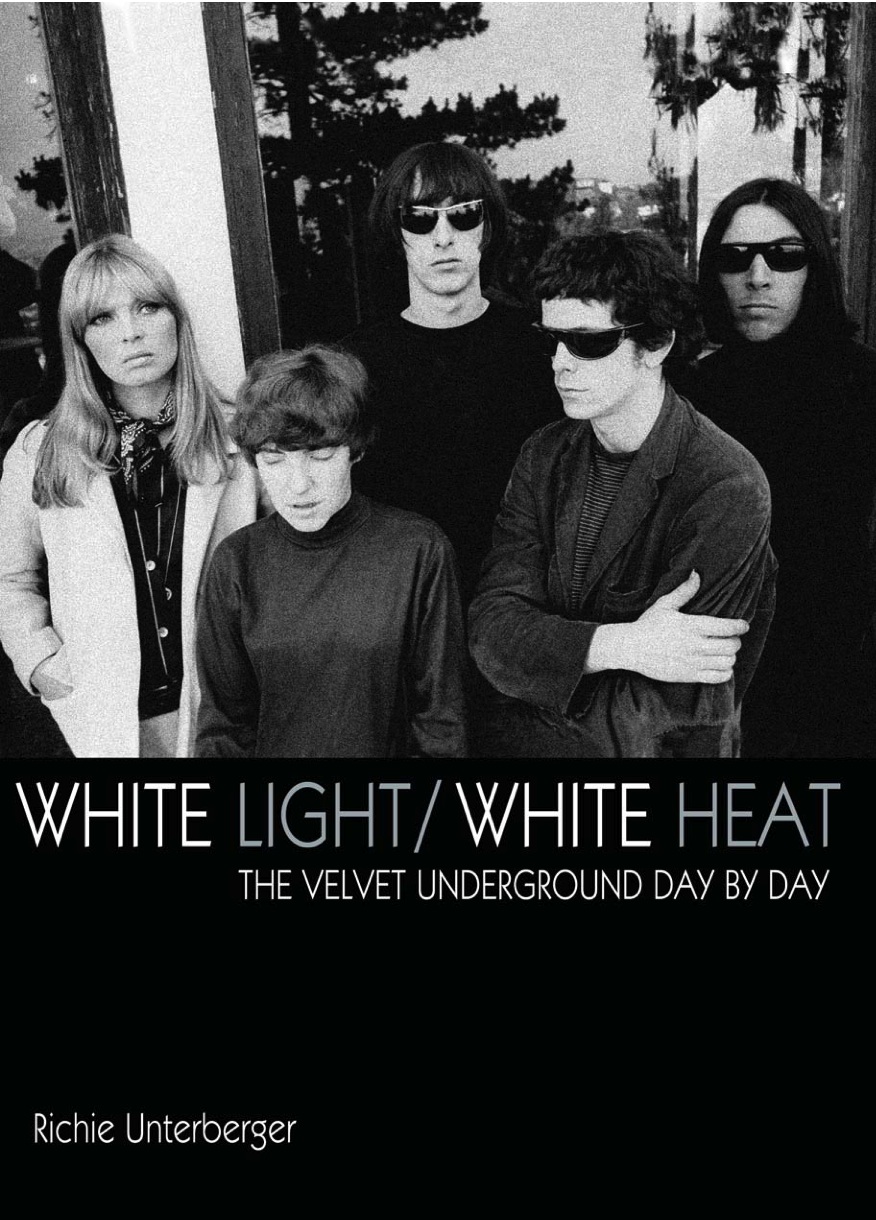 unless otherwise specified.
HOME WHAT'S NEW MUSIC BOOKS MUSIC REVIEWS TRAVEL BOOKS