White Light/White Heat: The Velvet Underground Day-By-Day is by far the most comprehensive book on the Velvet Underground ever published. The 368-page, 8 1/2" X 11"-sized book covers the group's recording sessions, record releases, concerts, press reviews, and other major events shaping their career with both thorough detail and critical insight. Drawing on about 100 interviews and exhaustive research through documents and recordings rarely or never accessed, it unearths stories that have seldom been told, and eyewitness accounts that have seldom seen print, from figures ranging from band members to managers, producers, record executives, journalists, concert promoters, and fans. The July issue of MOJO magazine hails it as "an impressive means to reflect on the conundrum of what could be the ultimate cult band...detailed and anecdote-packed."

Though White Light/White Heat: The Velvet Underground Day-By-Day has plenty of information about what happened when, it's not just a reference book. This chronologically sequenced overview of the band's life and times also offers weaves a wealth of passionate analysis and musical description into the research. The result is not just a document of their perpetually fascinating performances, hirings, and firings, but also insight into the creation of their music—the aspect of the Velvet Underground's legacy, after all, that's by far the most enduring.

White Light/White Heat: The Velvet Underground Day-By-Day includes not only basic nuts-and-bolts facts, but also many behind-the-scenes stories as to how their songs were written and recorded; how their strikingly original stage shows were devised; how the band were perceived by reviewers at the time of their 1965-70 heyday, not just in retrospect; and how the group as a whole underwent a most improbable, incessantly unpredictable evolution from the most avant-garde of bohemian origins into a highly accessible, yet still boldly creative, rock band by the time Lou Reed left the group he'd co-founded with John Cale in early 1965.


While the bulk of White Light/White Heat: The Velvet Underground Day-By-Day documents the period from 1965 to 1970 in which Lou Reed was the group's chief singer and songwriter, it also offers in-depth coverage of the individual members' surprisingly extensive (if mightily obscure) pre-1965 activities; the solo or non-VU projects in which they were involved between 1965 and 1970, which were numerous and often quite intimately related to what the group themselves were doing; and the ways in which the band's legacy was both influential and expanded upon after 1970, not only via the numerous releases of unissued Velvets material, but also through how the stature of their achievements grew and grew with a wealth of posthumous honors and tributes. Along the way, many unreleased concert and studio recordings are vividly described; many obscure and unlikely concerts delineated; and many myths that have grown up around this most legendary of all cult bands untangled and dissected.

White Light/White Heat: The Velvet Underground Day-By-Day

also features more than 100 illustrations, including reproductions of rarely or never seen photos, concert posters, letters, and other assorted documents and memorabilia. It's the ultimate history of the band that did more than any other to break down barriers between rock music and the avant-garde, incorporating electronic innovations, experimental instrumentation and improvisation, and lyrics detailing the realities of sex, drugs, and rock'n'roll with greater skill and daring than anyone else.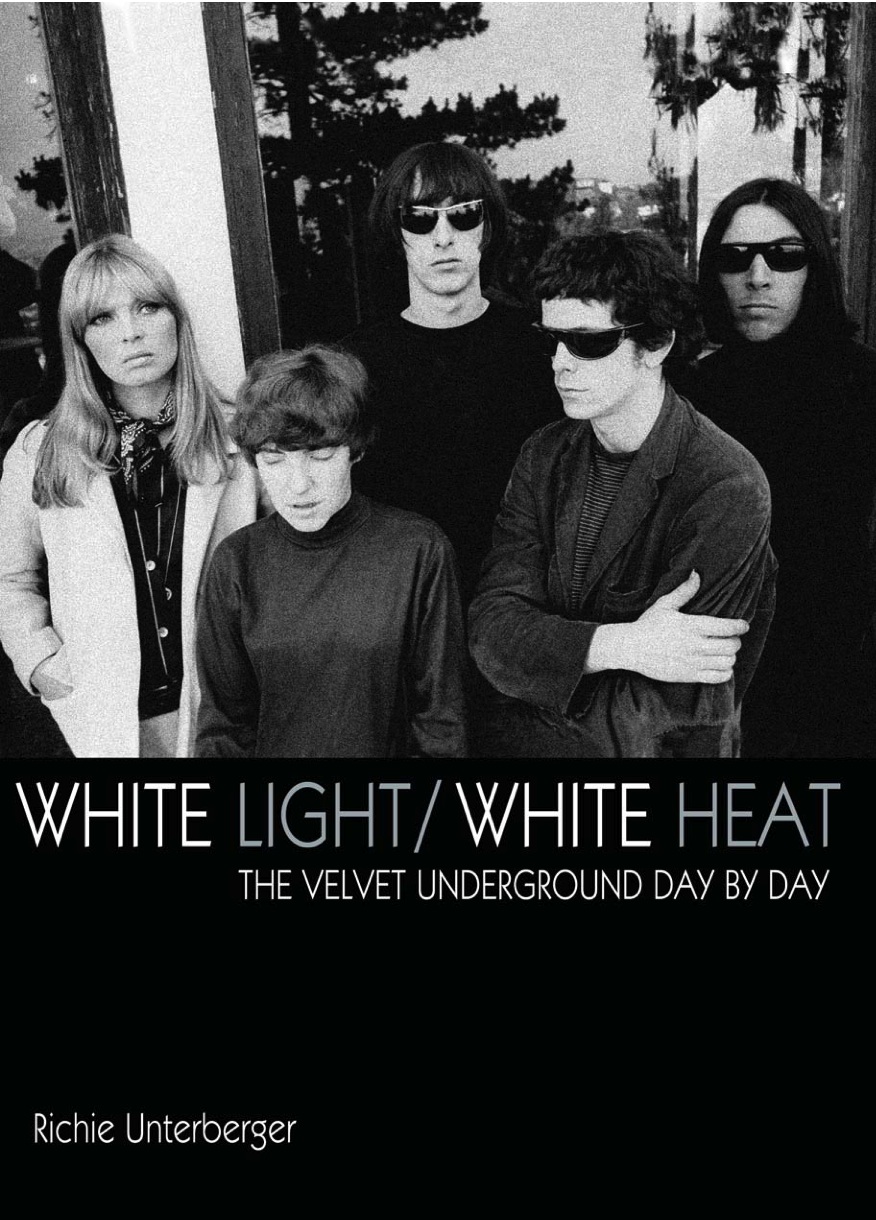 unless otherwise specified.
HOME WHAT'S NEW MUSIC BOOKS MUSIC REVIEWS TRAVEL BOOKS