THE TWELVE STRANGEST VELVET UNDERGROUND CONCERTS EVER GIVEN

The Velvet Underground not only sounded like no other band—they gave concerts like no other band, or at the very least in settings rarely used by other groups. Much of this, of course, had to do with their affiliation from early 1966 through mid-1967 with the Exploding Plastic Inevitable, a multimedia environment the likes of which few if any other acts used. Even before and after their association with Andy Warhol, however, they did some gigs that were downright peculiar. Here are a few, all of which are discussed in greater detail in

White Light/White Heat: The Velvet Underground Day-By-Day

:



1. Summit High School Auditorium, Summit, New Jersey, December 11, 1965:

Commonly regarded as their first concert with Maureen Tucker on drums; possibly the first concert at which they were actually billed as the Velvet Underground; and probably the first at which they were actually paid, instigating the resignation of original drummer Angus MacLise, who didn't want to stand for anything as commercial as showing up at a scheduled time and accepting money for the performance. Supporting the Myddle Class (who feature future Carole King husband/collaborator Charles Larkey on bass and future Steely Dan singer Dave Palmer), they played three songs—"There She Goes Again," "Venus in Furs," and "Heroin"—to an almost wholly uncomprehending and unappreciative audience of adolescents. "The band just emptied that auditorium," says Sterling Morrison's wife, Martha.



2. Café Bizarre, Greenwich Village, mid-to-late December 1965:

The VU played about two weeks in this beatnik club-cum-tourist trap in front of largely uninterested, and occasionally hostile, customers. The stage was so small that Maureen Tucker couldn't even set up her drums, instead getting relegated to tambourine. Told they'd be fired if they played the room-clearing "The Black Angel's Death Song" even one more time, the Velvets proceeded to lead off their very next set with it. They got fired for their mischievousness, but not before meeting and impressing Andy Warhol in the audience, leading to a management deal with him and Paul Morrissey.



3. Delmonico's Hotel, New York, Annual Dinner of the New York Society for Clinical Psychiatry, January 13, 1966:

The VU wreaked havoc at their first gig after hooking up with Warhol, playing "Heroin" with a film of a torture scene with a man tied to a chair. In front of the movie danced a real, whip-wielding guy, Gerard Malanga. The group's friend Barbara Rubin filmed the psychiatrists, at the same time confronting the 350-strong audience with embarrassing questions about their personal sexual behavior. "It was ridiculous, outrageous, painful," said Dr. Harry Weinstock in the

New York Times

. 'Everything that's new doesn't necessarily have meaning. It seemed like a whole prison ward had escaped.' "You want to do something for mental health?" asked another psychiatrist. "Kill the story."



4. Playboy Club, Chicago, late June-early July 1966:

In

Up-Tight: The Velvet Underground Story

, Sterling Morrison remembers playing a noontime show at the Playboy Club in Chicago during their two-week residency at Poor Richard's at the beginning of summer 1966, with clothing "given to us by a mod shop in [the] Old Town [neighborhood]." As with many Velvets anecdotes that seem to be ludicrously improbable, Morrison's memory turns out to be dead accurate. It's verified by a photo of the event in the fall 1966 issue of

Playboy

's

VIP

magazine showing Morrison, John Cale, and Gerard Malanga onstage performing for several dancers, costumed

Playboy

bunnies prominently among them. The picture's captioned as follows: "A recent fashion show-happening at the Windy City, sponsored by Mod shop Man At Ease, featured the nouvelle vogue entertainment troupe, 'The Velvet Underground,' touting the most modern in way-out wearables." In the audience was Hetty MacLise, future wife of original VU drummer Angus MacLise, who'd recently met Angus and seen some of his performances with the band (which he'd temporarily rejoined in the absence of an ill Lou Reed) in Chicago.



5. Michigan State Fair Coliseum, Detroit, November 20, 1966:

As part of "the world's first mod wedding happening," the Velvet Underground, according to a piece that runs in the local underground paper

The Fifth Estate

just prior to the shows, "play the traditional wedding songs which will be sung by Nico. Superstar Gerard Malanga will then dance as the Velvet Underground improvises a 'happening' comprised of instrumental sound effects and psychedelic music." The article also indicates that at least part of the event might have been captured on celluloid, as Warhol "will bring his movie camera to Detroit to film the wedding. The newlywed mod couple will also receive a screen test for Underground Movies from Warhol during their honeymoon trip to New York City." Warhol himself gives away the bride, after which he
sits on a box of tomato soup autographing cans.



6. Philip Johnson's Glass House, New Canaan, Connecticut, June 3, 1967:

An evening outdoors benefit concert for choreographer Merce Cunningham at the glass house of architect Philip Johnson. Also on the bill was John Cage, performing his music with viola, gong, radio, and a slamming door, as well as the windshield wipers and engines of three cars. "For $75 a ticket, guests will see an hour-long performance by the dance company and hear the premiere of a score by John Cage, electronic composer," promised the

Bridgeport Post

a few weeks before the event. "Guests may tour Mr. Johnson's glass house on Ponus Ridge, the lake pavilion and underground museum of contemporary painting and sculpture. Dinner will be served and guests will help themselves to wine from barrels scattered in the gardens. Fireworks and outdoor dancing also will be part of the program."

Women's Wear Daily

even ran a short article on New York Republican Senator Jacob Javits.

Vogue

does a similar spread, one of the photos showing well-heeled guests on a raised outdoor platform dancing "to the frantic sounds of the Velvet Underground."



7. Lincoln Center, New York, November 13, 1967:

A fundraising benefit for public television station Channel 13 (WNET) at Lincoln Center in Manhattan, and one of their only three known gigs (all low-profile) in New York between spring 1967 and summer 1970. Billed, even at this late date, as "Andy Warhol's Velvet Underground," they shared the bill with "music by Alan Logan and his Orchestra" and "The Multi-Media Constructed Worlds of Stan Vanderbeek's Sound and film projections." The program also printed a menu listing "Relish Bowl, Blanquette de Veau a l'Ancienne Rice Pilaff, Glazed Baby Carrots with Chives, Cucumber & Cherry Tomato Salad with Dill, Fresh Fruit Bowl, Assorted Cheese Tray with Biscuits, Petits Fours, Demi Tasse, Champagne, [and] Cognac" as the evening's refreshments.

Women's Wear Daily

confirmed the next day that "tables were set up around the dance floor but when Andy Warhol's Velvet Underground rock group started tuning up, the guests chickened out, and a more sedate band took the stand."



8. Beverly Hills High School, Late October-November 1968:

Believe it or not, the Velvet Underground did play at this most famed and ritzy of American high schools sometime in the fall of 1968, probably while recording their third album and playing a few gigs in Los Angeles. Though exact date hasn't been pinned down, we have proof it takes place, the damning evidence being a photo in the Beverly Hills High School 1968-69 yearbook of the band sitting amiably onstage with what look like various school officials and students. The quartet's haircuts and wardrobe make it virtually certain that this must have taken place in the fall of 1968, so similar are they to promo pictures of the group taken during this time. The Velvets seem unlikely candidates to play for teenagers at one of the most affluent public high schools in the United States, but apparently it wasn't not wholly atypical of the programs staged in the building's auditorium. That same year saw famous novelist James Baldwin and Malcolm X's cousin Hakim Jamal, one-time president of the Malcolm X Organization of Afro-American Unity Inc., speak to students at the same facility. A few years later, the house band of Father Yod's hippie cult The Source Family gave a concert on the institution's outdoor grounds. More conventionally, pop-rock hitmakers Three Dog Night and early country-rock pioneers Poco (then called Pogo) also played at the high school during this semester. "I don't remember that at all," admitted an incredulous Doug Yule when shown the yearbook pictures. "That makes me think maybe I was abducted by aliens or something!"



9. The Boston Tea Party, Boston, December 14, 1968:

The MC5 opened for the Velvets, accompanied, as Rob Norris later writes in

Kicks

, "by a whole troupe of leather-clad White Panther crazies and a raving MC who after their dynamite set exhorted the audience to tear down the hall because it was not large enough to hold their energies and to take to the streets. When the Velvets came on, Lou spoke first to everyone present, saying, 'I'd just like to make one thing clear. We have nothing to do with what went on earlier and in fact we consider it very stupid. This is our favorite place to play in the whole country and we would hate to see anyone even try to destroy it!' The Detroit contingent was stunned by this remark and the thunderous applause that followed it. The Velvets played especially well that night..."



10. The Kinetic Playground, Chicago, April 25-27, 1969:

For the second and last time, the Velvet Underground shared a bill, unbelievably, with their ultimate antithesis in attitude, the Grateful Dead. According to Doug Yule's recollection in the fall/winter 1994 edition of the fanzine

The Velvet Underground

, "That show the Dead opened for us, we opened for them the next night so that no one could say they were the openers. As you know, the Grateful Dead play very long sets and they were supposed to only play for an hour. We were up in the dressing room and they're playing for an hour and a half and, hour and 45 minutes. So the next day when we were opening for them, Lou says, 'Huh, watch this.' And we proceeded to play a very long set. We did 'Sister Ray' for like an hour and then a whole other show." But for all the differences between the Velvets and the Dead, they do share one thing in common: sheer volume. "There was a guy standing over by the sound mixing board, and somebody said, 'that's [Grateful Dead soundman] Owsley,'" remembers Milwaukee radio DJ Bob Reitman. "I walked over to him and said, 'Are you Owsley?' He turned to me to answer, and the whole sound system just—and it probably was him—it's like somebody turned the whole thing up so loud that we couldn't hear each other. We just looked at each other and shrugged."



11. Hilltop Pop Festival, Rindge, New Hampshire, August 2, 1969:

The Velvet Underground headlined an actual rock festival the same month as Woodstock—albeit a much smaller one, the only other famous performer on the bill being Van Morrison. Admission to the event was $3, all the artists performing for free, as it was a benefit to—of all things—buy the town of Mason, New Hampshire a new fire engine.



Honorable mention:

Though these take place in early 1971 after Lou Reed leaves the band, somehow the band still billed as the Velvet Underground—with Doug Yule, Sterling Morrison, and Moe Tucker still aboard—ended up playing New England ski lodges. At least they got free passes for the ski lifts, according to Sterling Morrison's account in his 1986 interview with Ignacio Julia. "I was kind of aghast that [manager Steve Sesnick] had them playing ski lodges, but it was really fun, and of course it was beautiful," adds his wife Martha. "We all learned to ski."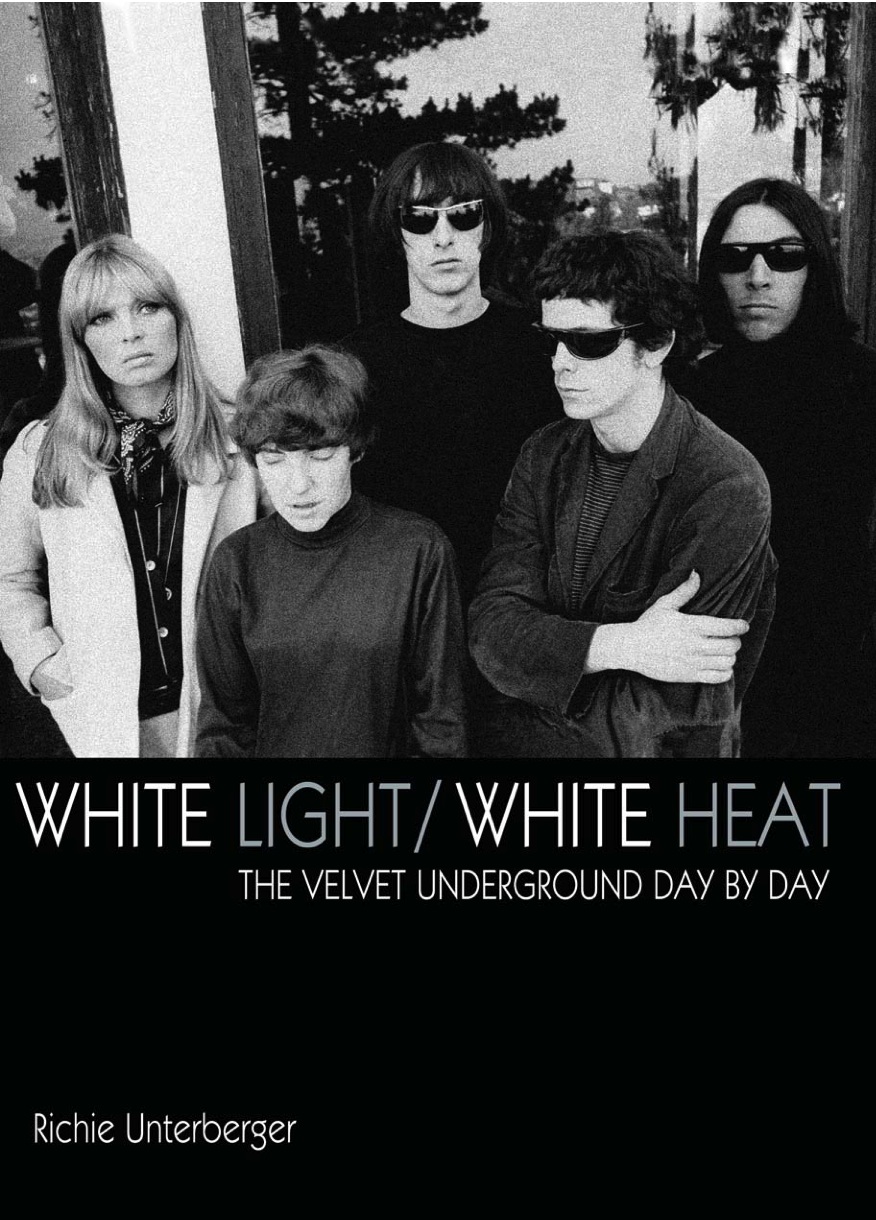 unless otherwise specified.
HOME WHAT'S NEW MUSIC BOOKS MUSIC REVIEWS TRAVEL BOOKS