UN-SUNG HEROES OF VELVET UNDERGROUND-DOM

Everyone with a significant interest in the Velvet Underground knows the names of Lou Reed, John Cale, Sterling Morrison, Maureen Tucker, Nico, and Andy Warhol. As with any major rock group, however, there were dozens of figures making significant contributions to their evolution that are generally overlooked, undercredited, or even virtually unknown to the larger public.

White Light/White Heat: The Velvet Underground

Day-By-Day

discusses many of them. Here's a brief guide to some of the most notable:



Doug Yule:

Many would find it strange to classify a full-time member of the Velvet Underground from October 1968 to mid-1973 as someone who's overlooked or obscure. Consider, however, that several film documentaries covering the Velvets fail to even mention Yule's name. Consider, too, that he was not inducted into the Rock and Roll Hall of Fame with Lou Reed, John Cale, Sterling Morrison, and Maureen Tucker when the Velvet Underground were admitted to that institution in 1996, although he actually plays on more commercially released Velvet Underground recordings than Cale does, even discounting the post-1970 recordings made without Reed in the band.

More important than the quantity of Yule's work, however, is its underrated quality. While not the idiosyncratic talent that Cale was as an instrumentalist and singer-songwriter, Yule was a fine bassist who quickly and adeptly eased the group's transition to a more powerful, if more conventional, rock sound. It's also overlooked that he made significant contributions as a multi-instrumentalist, also playing organ with the group onstage—that's his electrifying swirl on the

1969 Velvet Underground Live

version of "What Goes On"—and also chipping in on keyboards, drum, guitar, backup vocals, arrangements, and the occasional lead vocal ("Candy Says" being the standout) in the studio and in concert. Far from being an incidental, faceless entity needed to fill out the lineup, as some accounts might have you believe, Yule was not just an adequate replacement—he was a very considerable asset to the group.



Angus MacLise:

Although he was the group's original drummer and a full member of the Velvet Underground for much of 1965, there's a good reason why the name of Angus MacLise isn't familiar, even to many VU fans. He doesn't appear on any of their commercially released recordings (although he

can

be heard on the versions of "Heroin" and "Venus in Furs" on the soundtrack of the short film

Andy Warhol's Exploding Plastic Inevitable

, shot at the Velvet Underground's performances in Chicago in mid-1966, during which MacLise temporarily rejoined the lineup to help cover for an ill Lou Reed's absence). Nor did he go on to fame in any other capacity, or even release any music in his lifetime other than an obscure flexidisc, though several CDs of his recordings have come out posthumously.

Still, MacLise's idiosyncratic percussive style—sometimes likened to the sound of falling rain, and incorporating world music influences from his travels in the Far East—helped shape the avant-garde aesthetic that immediately set the Velvet Underground apart from other rock bands when they formed in 1965. MacLise also supplied voltage for their electric guitars in their very early days, the band running extension cords between their apartments through the hall in 56 Ludlow Street on New York's Lower East Side. Not incidentally, both Hetty MacLise (whom Angus married in the late 1960s) and Terry Riley, both of whom later worked with Angus in settings outside the Velvets, feel in retrospect that Angus's experience as a poet was influential upon the nature of the material the group developed.



Paul Morrissey:

Ask most people who managed the Velvet Underground, and their answer will be Andy Warhol. That's only partially true. Though Warhol was indeed involved in their management from the beginning of 1966 through around mid-1967, technically speaking he co-managed them with Paul Morrissey, a filmmaker who himself managed Warhol. It should also be noted that the Velvets were briefly managed by Al Aronowitz (though he didn't bind them to a legal agreement) in late 1965 before meeting Warhol, and that Steve Sesnick would take control of their affairs from mid-1967 through their demise in the early 1970s.

Morrissey said in his interview for

White Light/White Heat: The Velvet Underground Day By Day

that many of the ideas often credited to Andy originated from Morrissey himself. As for Warhol's direct involvement with the functions usually associated with a rock manager—getting them gigs, dealing with record labels, dealing with the logistics of their stage show, and so forth—certainly Morrissey was more involved than Andy was. According to Paul, "In actual reality, the basis of these things came almost always from me, and not from him, during these years I was there. I'm the one that met them, told them I would manage them, put Nico in the group, and Andy would present them, be called the manager. But have you ever heard of a manager who

had

a manager? I'd love for you to come up with another situation where there was somebody who was a manager who had a manager who told him what things should be done and then went and did them himself."



Steve Sesnick:

Unlike Andy Warhol, Paul Morrissey, or even Al Aronowitz, Steve Sesnick is not renowned for anything other than managing the Velvet Underground. Too, he's often cast as a villainous character for sowing discord within the band, both Lou Reed and John Cale calling him a "snake" in different interviews after they left the Velvets. In particular, Cale has felt that Sesnick tried to push Reed as the band's leader at the expense of group harmony, and Sesnick's pressure to live up to certain expectations and images has been cited as a key factor in Reed's departure from the band in August 1970. "The real snake is a guy named Steve Sesnick," said Reed in the November 1987 issue of

Creem

. "He was a very bad person, trying to divide everyone, telling one person one thing, telling another person something else, and pitting people against each other, starting with John and me, and then working his way down through the band. That way he could maintain power. I quit in the middle of

Loaded

because I couldn't stand it anymore."

There's usually a different side to every story, and while defending Sesnick's overall performance isn't an enviable task, it should be said that he

did

do a lot for the Velvets in certain respects. He took on a very uncommercial band and worked hard on their behalf, helping them in their transition from their role as part of Andy Warhol's Exploding Plastic Inevitable into a standalone rock act that toured nationally in prominent venues. Doug Yule has said Sesnick did a lot to extract financial support from MGM, the band's label before 1970, at a time when the Velvets weren't selling that many records.

"He tended to, let us say, exaggerate or elaborate upon the truth," says Steve Nelson, who dealt with Sesnick on numerous occasions over the next few years as manager of the Boston Tea Party and a promoter at venues where the band played elsewhere in Massachusetts. "So sometimes it was hard to know what was the truth about what he was really saying. I think that that was one of his weaknesses, although he used it as a strength in terms of as a promoter, talking his way into people. He always had a good patter.

"His strength was, he was really dedicated to the band. He wasn't there as some music-biz guy to kind of exploit them. 'Cause first of all, it wasn't really like a huge commercial opportunity. There was a part of him that came from his heart, in terms of really being committed to the Velvet Underground. When they booked, they showed. He got them there. And that wasn't always true with people that we booked in those days. Sometimes things got pretty flaky. But I never had any problems with him in that regard. In terms of business dealings, he was pretty straightforward. I booked them a lot, and he never let me down once."



Tom Wilson:

The Verve/MGM executive who signed the Velvet Underground, when every other label they had approached—definitely including Columbia, and according to Sterling Morrison, also including Atlantic and Elektra—had turned them down. He also produced their second album,

White Light/White Heat

, and though he's only credited as the producer of one track ("Sunday Morning") on

The Velvet Underground & Nico

(with Andy Warhol credited as producer of record for the rest of the LP), it's been speculated that Wilson might have been the actual producer of the May 1966 Los Angeles recordings of "Heroin," "Venus in Furs," and "I'm Waiting for the Man" that are used on the record.

The depth of Wilson's actual contributions to the 1966-67 VU recordings has been questioned. It's been recalled that, for the VU sessions and those of some other bands he produced, he'd spend much of his time on the phone with girlfriends. According to Paul Morrissey, he primarily signed the Velvets because of Nico, feeling she was the only commercial aspect of the band. But as John Cale told

Creem

in 1987, "He was inspired, though, and used to joke around to keep everybody in the band light." And Lewis Merenstein—a close friend of Wilson's who first worked with Tom as an engineer back when the producer broke into the record business in the mid-1950s, and co-produced Cale's first solo LP—feels Wilson would have given the Velvets "freedom and enthusiasm. Tom did not have a heavy hand. He wanted people to be who they were. He got along with everybody. He was truly a free spirit."

In his very distinguished career, Wilson also produced Bob Dylan, Simon & Garfunkel, the Mothers of Invention, the Animals, the Soft Machine, Dion, John Coltrane, Sun Ra, and Cecil Taylor.



Norman Dolph:

The Columbia Records sales executive who co-financed the April 1966 sessions at Scepter Records Studios in New York that produced the bulk of the banana album. In essence he was a co-producer of sorts for the sessions themselves as well, acting much more in that traditional capacity than Andy Warhol did, though Warhol and not Dolph would be officially credited as the producer of the tracks on the LP. Dolph also used an acetate made from these sessions to try and get the group a deal with Columbia, but was immediately and forcefully turned down. (One of the acetates made from the sessions would sell on eBay for about $25,000 about 40 years later, marking one of the highest prices ever paid for a music disc.)



John Licata:

The engineer for the April 1966 sessions at Scepter Records. Licata "was a wonderful, cooperative, easy to get along with, unfreaky guy," observes Dolph. "He was the total antithesis of the Velvet Underground. At no time did any of the musicians ever tell him what to do. They went in and played, and he got what they wanted. On the banana album, they credit Val Valentin with the engineering. He may have done much of the remix or whatever, but he's certainly not the engineer that was responsible for the sound of the album at its basis. When I heard the banana album [a year later], it sounded to me just like what we did. It didn't sound appreciably different from what we did at Scepter."



Tony Conrad:

Now well known in his own right as an experimental musician and filmmaker, Conrad played with John Cale in La Monte Young's group from late 1963 to late 1965. With Cale, he was instrumental in developing that group's jet-strength amplified drone on stringed instruments—a quality that Cale was in turn instrumental in bringing into the Velvet Underground. Conrad also played alongside Cale and Lou Reed briefly in late 1964 and early 1965 live in the rock band the Primitives, and according to most accounts found the book lying on a New York street,

The Velvet Underground

, that the band named themselves after.



La Monte Young:

One of the most esteemed avant-garde composer/musicians of the twentieth century, in whose group Conrad and Cale played, as did Angus MacLise, who played with Young for various periods between 1962 and 1965.



Walter De Maria:

Drummer in the Primitives, the pre-VU band also including Lou Reed, John Cale, and Tony Conrad, playing several concerts in late 1964/early 1965. De Maria had also played in a rock group that briefly existed in 1963 which also included La Monte Young and none other than Andy Warhol.



Terry Philips:

The Pickwick Records producer who signed Lou Reed to the label as a staff songwriter in late 1964, getting credited (along with other writers) alongside Reed for composing numerous mid-'60s Pickwick releases. The most noteworthy of these is "The Ostrich," the late 1964 single credited to the Primitives on which Lou Reed takes lead vocal.

Some accounts would have it that Philips and Pickwick stifled Reed's creativity, and particularly discouraged the recording of controversial songs like "Heroin." But in his interview for

White Light/White Heat: The Velvet Underground Day By Day

, Philips repeatedly stated his admiration for Reed's talents and regrets that he and Pickwick couldn't have worked with him more. "I helped encourage him on his writing to do things that were more like 'Heroin,' and more like the kind of writing he did in short stories," he stated. "We were working towards a goal. I thought he could be what he became." It's also worth noting that Reed was not the only hip musician whose path Philips crossed, as Terry had also worked with Jerry Leiber, Mike Stoller, and Phil Spector. He would also record free jazz musicians Sunny Murray, Albert Ayler, Pharoah Sanders, and Larry Young, and be a partner at one point with renowned writer LeRoi Jones in a jazz label.



Delmore Schwartz:

The acclaimed short story writer (most famous for "In Dreams Begin Responsibilities") and novelist was a professor to Lou Reed at Syracuse University, helping to inspire Reed's own writing. In the songwriting credits for

The Velvet Underground & Nico

, "European Son" is titled "European Son to Delmore Schwartz." It's somewhat of a tongue-in-cheek dedication, however; knowing Schwartz's aversion to rock lyrics, the group chose the song with the least words to name in his honor. "Delmore despised rock and roll lyrics, he thought they were ridiculous and awful, and 'European Son' has hardly any lyrics so that meant that was a song that Delmore might like," explained Sterling Morrison in his 1986 interview with Ignacio Julia for Spanish television. "He didn't care about the music part of rock and roll, he just hated the lyrics, so we wrote a song that Delmore would like: twenty seconds of lyrics and seven minutes of noise."



Piero Heliczer:

Experimental filmmaker, and longtime friend of Angus MacLise, at whose multimedia events or "happenings" the Velvet Underground played some of their first shows in 1965. It's clear these "happenings" had a big effect on Sterling Morrison, who wrote in the literary magazine

Little Caesar

, "For me the path ahead became suddenly clear. I could work on music different from ordinary rock'n'roll since Piero had given Lou, John, Angus and me a context to perform it in."



Kate Heliczer:

Then-wife of Piero Heliczer, she circulated demos of the Velvet Underground in Britain in 1965 and 1966 in an attempt to help them find management and/or a record deal.



Al Aronowitz:

New York Post

reporter who was among the first journalists to take rock seriously, introducing the Beatles to Bob Dylan in 1964. While dabbling in rock management, he handled the Velvet Underground for a month or two near the end of 1965, though as he didn't sign them to a contract, it was easy for the group to leave him in favor of Andy Warhol and Paul Morrissey. The late Aronowitz's highly opinionated account of his stint with the Velvets can be read at http://www.bigmagic.com/pages/blackj/column80.html.



Barbara Rubin:

The young experimental filmmaker and friend of Allen Ginsberg who urged Al Aronowitz to take on the Velvet Underground in late 1965, and then urged Gerard Malanga to see the Velvets in December of that year at the Café Bizarre in Greenwich Village. That in turn led to Paul Morrissey and Andy Warhol seeing the Velvets at the club and offering to manage the group.



Henry Flynt:

Experimental musician who, like John Cale, had circulated in the New York avant-garde scene of the early-to-mid-'60s with the likes of Tony Conrad and La Monte Young. In September 1966, he filled in for Cale for four Velvet Underground performances at the Balloon Farm in New York. Though a few other musicians are known to have sat in informally with the Velvets in 1965 and 1966 (including Piero Heliczer, Helen Byrne, Richard Mishkin, and Bobby Ritchkin), Flynt's brief run seems to have been the most extensive such stint.



Edie Sedgwick:

A dancer at some of the Velvets' very earliest performances after they hooked up with Warhol in early 1966. By most accounts she severed her contact with Warhol and the Factory, and thus the VU, in February of 1966. As much attention as she gets these days for her relationship to Warhol and the Factory, her role in the Velvet Underground story is very slight, though it does include a brief romantic relationship with John Cale for a few weeks in early '66.



Gerard Malanga:

Andy Warhol assistant and poet/photographer/filmmaker who was perhaps the most renowned of the dancers of the Exploding Plastic Inevitable, particularly for doing a "whip dance." Some have speculated that his dress and image influenced Jim Morrison of the Doors.



Mary Woronov:

Another EPI dancer, frequently enacting routines with Malanga, and subsequently an acclaimed film director.



Danny Williams:

Sometimes credited with handling lights at the EPI shows, disappearing on July 25, 1966 in an incident that's often been thought to have been a suicide. His story is told, and excerpts from his films shown, in the 2007 documentary

A Walk into the Sea

, directed by his niece, Esther Robinson. The movie also includes brief silent snippets of the Velvet Underground rehearsing in early 1966 that were shot by Williams, taken from footage that lasts about fifteen to twenty minutes altogether. For the record, Paul Morrissey maintains that Williams "didn't have do anything to do with any lights or the Plastic Inevitable; that was done entirely by me. There was no light show other than the five film projections, five slide projections, and one spotlight that was used in a mirror ball that revolved. We didn't need any other lights, nor could we afford them; there was no place to put them or anyone to work them."



Eric Emerson:

Another EPI dancer, as well as sometime Nico boyfriend and actor (alongside Nico and her son Ari) in the film

The Chelsea Girls

. Sometimes regarded as one of the chief villains of the Velvet Underground story for threatening legal action for use of his photo (in a projection at an EPI performance) on the back of

The Velvet Underground & Nico

, causing the album to be withdrawn from distribution for a while and helping to kill whatever commercial momentum it might have gathered.



Billy Name:

Important part of the Factory who took the pictures for the covers of both

White Light/White Heat

and

The Velvet Underground

.



Ron Nameth:

Filmmaker who shot the 1966 short film

Andy Warhol's Exploding Plastic Inevitable

during the Velvet Underground's performances in Chicago in mid-1966. Although Lou Reed and Nico were missing from these performances (for which original drummer Angus MacLise temporarily rejoined the group), and although the Velvets can only be seen briefly (though they're heard on the soundtrack), this is the most comprehensive on-screen document of the Exploding Plastic Inevitable.



Ari Delon:

Nico's son (and only child, usually considered to have been conceived with star French actor Alain Delon), who appears with the Velvets in Andy Warhol's movie

The Velvet Underground: A Symphony of Sound

, shot at the Factory in early 1966.



Charlie Rothschild:

Booked shows for the Velvet Underground in California in May 1966, and again in September-October 1966 at the Balloon Farm in New York.



Gary Kellgren:

Engineer on many of the Velvet Underground's late-1960s recordings. More renowned as an engineer on some of Jimi Hendrix's recordings, and as co-founder of the Record Plant recording studios in New York City, which the Velvets sometimes used.



Hans Onsager:

Road manager for the Velvet Underground in the late 1960s, and son of Lars Onsager, winner of the 1968 Nobel Prize in Chemistry.



Steve Nelson:

Manager of the Boston Tea Party, the Velvet Underground's favorite venue, in the late 1960s, subsequently frequently booking the Velvets (at a time where they were in definite need of the work) at several clubs he operated in the state of Massachusetts.



Vic Briggs:

Formerly guitarist with Eric Burdon and the Animals, he tried to produce the Velvet Underground for a few nights in late 1968 at the sessions for their third LP before it was mutually decided that it wasn't working out.



Billy Yule:

Drummer for the Velvet Underground for their two-month stint at Max's Kansas City in New York between late June and late August of 1970, playing on the

Live at Max's Kansas City

album and some of the recordings used on

Loaded

. Other members have since expressed regret that they didn't wait until a pregnant Maureen Tucker had given birth and was ready to resume her place in the band before recording Loaded, and Billy Yule's more conventional rock style wasn't as suited for the group as Tucker's more idiosyncratic one. But Billy was there to fill the drum chair in summer 1970 at both one of their most important long-running gigs and some of the sessions for their final studio album with Lou Reed, and for that, his contributions can't be discounted.



Ahmet Ertegun:

Signed the Velvet Underground to Atlantic Records in early 1970, enabling them to escape an unsatisfactory situation with MGM and make a more professionally recorded album,

Loaded

, than any of their previous efforts. Ertegun and Atlantic would subsequently be criticized by some band members, however, for failing to promote

Loaded

well, failing to give the Reed-less band an opportunity to record a follow-up studio album, and for issuing a live LP (

Live at Max's Kansas City

) with the Reed lineup that had bootleg-quality sound. Sterling Morrison has also said that Ertegun and Atlantic were among the parties to reject the Velvet Underground when they were shopping for a record deal in early 1966.



Tommy Castanaro:

A real mystery man, this Long Island session drummer, probably recruited through the Musicians Union, appears on a couple tracks on

Loaded

.



Adrian Barber:

Co-engineer and co-producer of

Loaded

, also playing some drums at the sessions. He also worked with Cream, the Bee Gees, and the Allman Brothers. A former member of the Liverpool group the Big Three, way back in December 1962, he'd also made lo-fi live tapes of the Beatles that were released almost 15 years later as

Live! At the Star-Club in Hamburg, Germany

.



Geoff Haslam:

Another English co-producer/co-engineer on

Loaded

, his most famous other credit being producing the MC5's

High Time

album.



Shel Kagan:

The least celebrated of

Loaded

's three producers.



Robert Somma:

Editor of Boston-based, nationally-distributed rock magazine

Fusion

who, though rarely credited, was perhaps the journalist who did more than any other (with the possible exception of Richard Williams in the UK) to raise the Velvet Underground's visibility in the rock press in the late 1960s and early 1970s, championing them via pieces in

Fusion

and other publications.



Jonathan Richman:

Perhaps the VU's most fanatical fan, seeing them many times in Boston and elsewhere as a teenager, and becoming one of the first important Velvet Underground-influenced musicians as leader of the (occasionally John Cale-produced) Modern Lovers in the early 1970s.



Richard Williams:

The journalist who did more than any other to popularize the Velvet Underground in the British rock press in the late 1960s and early 1970s, especially via rave reviews in

Melody Maker

. Later to sign John Cale and Nico to Island Records, and currently chief sportswriter at the UK national paper

The Guardian

.



Danny Fields:

Atlantic Records publicist who helped arrange for the sale and release of the August 23, 1970 tapes issued on

Live at Max's Kansas City

.



Brigid Berlin (aka Brigid Polk):

Andy Warhol Factory worker and actress who tapes the Velvet Underground at Max's Kansas City on August 23, 1970, their final night before Lou Reed left the band. These are the tapes later issued on the LP and expanded CD versions of

Live at Max's Kansas City

.



Richard & Lisa Robinson:

Husband and wife who were instrumental in encouraging Lou Reed to begin a solo career after his exit from the Velvet Underground, with Richard Robinson producing Reed's debut solo LP in early 1972.



Paul Nelson:

Mercury A&R man whose idea it was to compile and issue the two-LP set

1969 Velvet Underground Live

, one of the greatest live rock albums ever, in 1974, when such lengthy archive concert releases of cult bands are virtually unknown.



Elliott Murphy:

Singer-songwriter who helped compile

1969 Velvet Underground Live

, and wrote the LP's liner notes.



Patti Smith:

The first star punk/new wave musician to help retroactively popularize the Velvet Underground, not only via their incorporation of the group's influence on her John Cale-produced 1975 debut LP, but also by covering some of their songs in concert. Prior to her recording debut, she also wrote rave reviews of the Velvet Underground rock critic, as did her guitarist, Lenny Kaye.



M.C. Kostek & Phil Milstein:

Editors of the Velvet Underground fanzine

What Goes On

, the organization that did more than any other to spread the growth of the group's cult after their dissolution.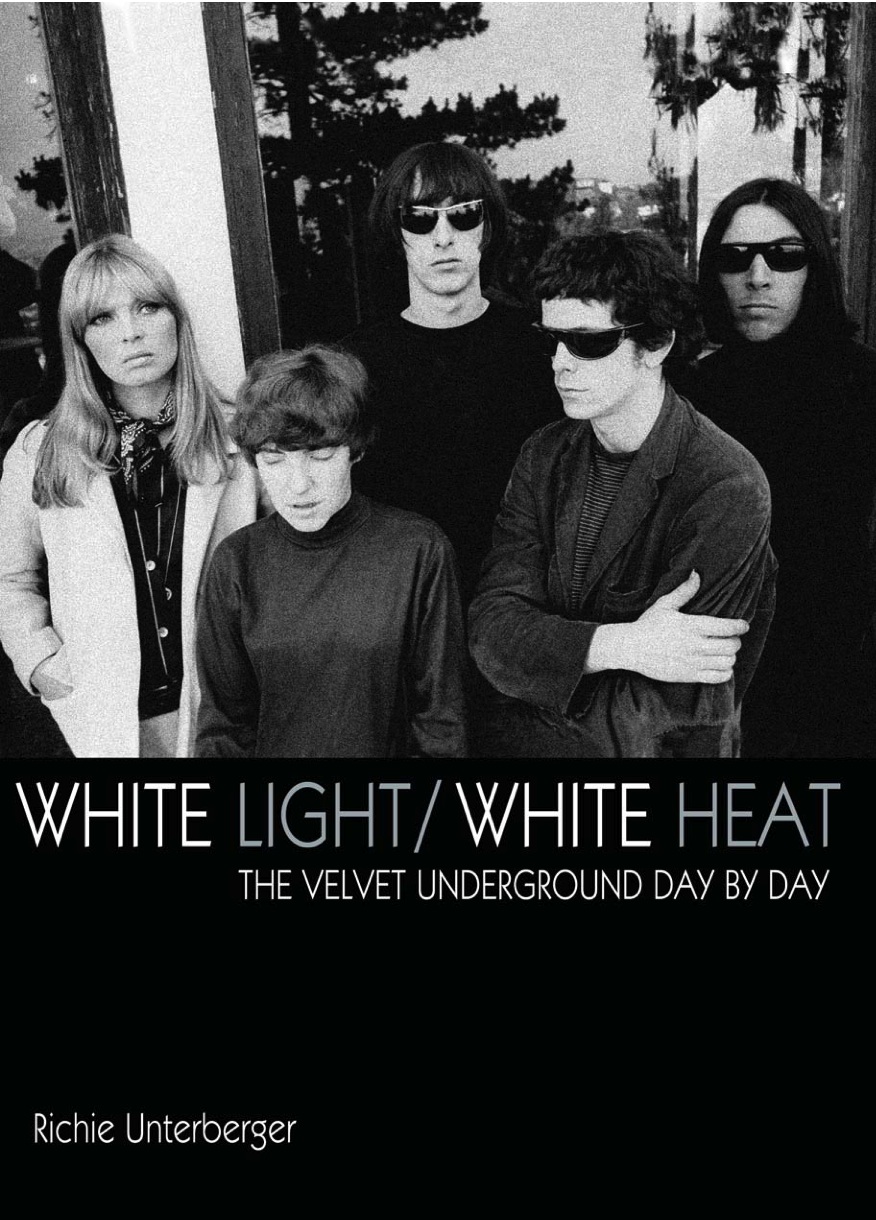 unless otherwise specified.
HOME WHAT'S NEW MUSIC BOOKS MUSIC REVIEWS TRAVEL BOOKS