FROM

WON'T GET FOOLED AGAIN: THE WHO FROM LIFEHOUSE TO QUADROPHENIA



At the Record Plant: The Who's First Attempt to Record

Lifehouse/Who's Next

in New York, March 1971

The Who had done a bit of recording in the US in 1967 and 1968, working on some singles and

Who Sell Out

tracks in New York, Nashville, and Los Angeles. These, however, had been pit stops fit into the group's manic American tour schedules. When they flew to New York in mid-March 1971, it marked the first occasion on which they were traveling across the Atlantic with the intention of recording much or even all of a complete album. This was Lambert's idea, as he was co-producing an album at New York's Record Plant for LaBelle with fellow British producer-manager Vicki Wickham (most famous for managing Dusty Springfield and producing the mid 60s UK TV show

Ready Steady Go!

, on which The Who had been frequently featured). The sessions were intended to last two weeks, but in the event would barely stagger through a few days.

Though Lambert's role in The Who's recordings had diminished since

Tommy

, Townshend was eager to resume collaboration, partly in hopes that Kit could be as much of a help to bringing

Lifehouse

to fruition as he had on

Tommy

. Perhaps some dissatisfaction with the tracks cut at Townshend's home studio for the aborted 1970 LP also played a part. As he told

Sounds

early in January 1971, "Recently we've been recording at my own studios, there I really did have control. I mean I was recording the group, producing, writing and everything. When we finished it didn't sound like The Who at all. It sounded like me, like one of my demos. So we had to throw it in my demo tray and go back into the studios we normally use."

If The Who hoped to get a superior sound than they'd been able to achieve at Pete's home studio, or perhaps even than they could get anywhere in the UK, the Record Plant was a good choice. Though it had only been open for about a couple years, Jimi Hendrix had instantly given it credibility by recording much of 1968's

Electric Ladyland

there. The Velvet Underground had done many sessions there in 1969; John Lennon would record some of his 1971 album

Imagine

there as well. The Who would be the first band to use its new Studio One, with engineer Jack Adams, according to Townshend's liner notes for the CD deluxe edition reissue of

Who's Next

, co-producing with Kit Lambert. (Pete also wrote that he'd worked with Adams in New York before, though it's not clear when that would have taken place; possibly it happened during the New York sessions for

The Who Sell Out

.) According to a Townshend

ZigZag

interview, Lambert even told him they'd record in quadraphonic sound, something to be attempted with more diligence for the album they'd make a couple years later.

It's something of a miracle we're even able to hear some Record Plant tracks on authorized CDs, though some first showed up on the 1990 bootleg

From Lifehouse to Leeds

. As Chris Charlesworth (who helped assemble the 1995

Who's Next

reissue on which some Record Plant cuts were first heard) told

ICE

, "We actually retrieved the master tape from which that bootleg was made ... [at the time of the recording], it was brought back to England and left at Olympic Studios; I guess The Who played it once and just left it there. It stayed at Olympic until there was a clear-out sometime in the early 80s, and it was thrown in the rubbish. It was rescued from the garbage and ended up being sold to the bootlegger, we don't quite know how.

"Late [in 1994], Pete asked me to try and retrieve it, implying that he'd be willing to buy it back for a reasonable sum, with no questions asked. I put the word out, and although it was a bit of cloak and dagger, I got a call four months later from someone saying he knew where it was, and all I had to do was send a messenger to this address, and I'd get it back. So I got it back, and gave it back to The Who. The bootleggers didn't even charge us."

Although Townshend described the Record Plant sessions in the notes to the

Who's Next

CD deluxe edition as "great fun," they weren't greatly productive, major problems becoming immediately evident. If Pete could take some cold comfort in these not being directly related to

Lifehouse

and his inability to fully articulate its premise, they were if anything even more detrimental to work on the band's next album, and even to the long-term health of The Who themselves. First, Lambert was using heroin, impeding his abilities to supervise the sessions from the get-go. In addition, as Townshend frankly admitted in the CD deluxe edition liner notes, Keith Moon was using hard drugs as well. Typically, Pete didn't exempt himself from his share of blame either, remembering drinking bottle after bottle of brandy.

Partying inside and outside the studio hadn't stopped The Who or indeed other acts who'd used the Record Plant, such as Hendrix, from laying down some classic tracks. In March 1971, however, the chaos was apparently also spilling over to the control room. "Jack Adams was one of the top engineers at the Record Plant," remembers Jimmy Robinson, who'd taken a job as a second engineer at the studio after playing tenor sax with Buddy Miles's band. "He had done a lot of big records, and he worked with LaBelle a lot. I worked with Jack a few times. I used to call him Merlin, because he would like disappear a lot during sessions. He would not come back for like an hour, maybe two hours. A lot of times Jack would look over at me and say, 'Uh, I gotta go out. I'll be right back,' or something like that. 'And you gotta take over.' One night that happened, I ended up like finishing LaBelle for him, and we became really good friends."

In his days at the Record Plant, continues Robinson, Adams "would like take a bottle of scotch and just go and sit in a bathroom stall and drink half of it. He would literally say 'Jimmy, take the board,' and then he would disappear. Somebody would start to get pissed off, and go 'where's Jack?,' and they'd have to go find him. He'd be like in the broom closet or in the fucking bathroom stall, the door locked, passed out."

Another young engineer at the Record Plant was Jack Douglas, later to work on Lennon's

Imagine

and, almost a decade later, work as a producer on Lennon and Yoko Ono's

Double Fantasy

LP. "Up till then, I had only done some jingle dates and one record session with Patti LaBelle during which I had set the console on fire by knocking someone's beer into the transformers," he admitted in the June 1995 issue of

Guitar Shop

. In an interview with Don Zulaica of LiveDaily.com, he remembered his work on The Who's Record Plant sessions as his first engineering gig, also intimating that Adams might not have been that into doing Who sessions in the first place: "It was Jack Adams and myself. Jack was an R&B engineer and I was his assistant. Jack was not into doing The Who. He was into Aretha, just: 'God, let me out of here! Take over PLEASE.' And the first thing they did was 'Won't Get Fooled Again' and my hair was standing straight on end."

Remarked Douglas in

Guitar Shop

, "Kit Lambert was technically listed as the producer, but it was clear that Pete was in charge of the production. He could drive the band nuts with his directions, but also really got them ripping when they tracked. He would especially concentrate on whipping up Keith, because he realized that the band actually took its energy cues from Keith. The energy level was always so

up

there

that many of the solos on the record were done in one pass during the tracking sessions. It really kept the trio sound together."

Although it's been reported that sessions started on March 15, perhaps no proper or at least complete takes were done that day, as the seven tracks that were eventually released were all done between Tuesday, March 16 and Thursday, March 18. 'Won't Get Fooled Again' may well have been the first song they did, as Douglas remembers, since the version issued as a bonus track on the deluxe edition of

Who's Next

was cut on the 16th. While this shows the band getting close indeed to the arrangement used on the famous official version, there are important differences that mark this as distinctly inferior to the one heard on

Who's Next

. The guitar work is busier and a bit histrionic in its occasional squeals; Daltrey's lead singing isn't supported by backup vocals; a synthesizer-and-drum-dominated instrumental passage follows the "meet the new boss, same as the old boss" declamation, disrupting the momentum; and Roger's famous scream that precedes the line is absent. The transitions between the verses, choruses, and instrumental breaks are at times clumsy, as are some of Daltrey's improvised-sounding vocal interjections. And the recording didn't use the synthesizer track from Townshend's demo, a credible but ultimately not quite as penetrating facsimile being created by playing an organ through a VCS3 live ¬– an experiment initiated, interestingly, by Roger rather than Pete.

The other song from March 16 to eventually see the light of day was in a couple respects the oddest Who recording to emerge from the

Who's Next/Lifehouse

sessions. The Motown oldie 'Baby Don't You Do It,' a 1964 hit for Marvin Gaye, had been inserted into The Who's repertoire almost immediately after its release, as the discovery of their acetate demo from the period of the song (released on the CD version of

Odds & Sods

) proves. Why would they be revisiting that of all songs at a time when they were ostensibly working on a concept album to take place 20 years in the future?

Townshend would reveal how it could have fit into

Lifehouse

nearly 30 years after the Record Plant sessions in his

Lifehouse Chronicles

notes, where he explains how the parents "going mobile" in search of their runaway daughter would furtively listen to old rock records as they toodled in their caravan. (In his 1989 Radio One interview with Roger Scott, he described much the same scenario, though curiously it was "two rock and roll guys" doing the driving and listening, not a married couple.) What better oldie to revive for such a scene than 'Baby Don't You Do It,' which The Who featured constantly in their mid 60s live shows? (It's also worth bearing in mind that

Tommy

had actually included an oldie of sorts in the band's adaptation of Mose Allison's arrangement of bluesman Sonny Boy Williamson's 'Eyesight to the Blind'; another Allison song, 'Young Man Blues,' was considered for

Tommy

as well, as was a version of another blues song Allison covered, Mercy Dee Walton's 'One Room Country Shack.')

Even odder was the recruitment of a guest session musician for the track ¬– not to add keyboards, as The Who had done off and on since 1965, but lead guitar. Nor was the guitarist, Leslie West, a musician the average Who fan would expect to be the first guy called to fulfill the role. But West, who'd recently become a star as part of the US hard rock band Mountain, had encountered The Who as far back as November 1967, when his band The Vagrants opened for a Who concert at New York's Village Theater. Both The Who and Mountain played Woodstock a couple years later, and West met Townshend and Moon in less hectic surroundings at the Speakeasy club in London. Pete also admitted to pinching some of West's licks "for the stage" in

ZigZag

.

"When Mountain finally went over there, Track Records [The Who's UK label] was our agents, and they did pretty good to get us started in England," West explains. "Kit Lambert had called my manager, and then they called me and [asked] do I want to play guitar with The Who on this album that they were doing. I don't even know if they had the title yet. I said, 'Well, they have a guitar player.' They said, 'Well, Pete didn't want to overdub, he wanted to do it straight away.' And I said, 'Sure.'"

The very notion of The Who – a band already featuring one of the greatest rock guitarists, and who had not only functioned as a one-guitar power trio-with-vocalist their entire recording career, but made it one of their trademarks – enlisting another guitarist seems absurd. But as West amplifies, it seemed to fit in with The Who's apparent desire, at these Record Plant sessions at least, to record as quickly and in as "live" a manner as possible. "From what I understood, he wanted to play rhythm, and he wanted me to play lead, so they didn't have to overdub," Leslie elaborates. "We were right in the same room, doing it without overdubbing. Roger was singing at the same time in a little room; we had headphones on." West had never even heard the original Marvin Gaye version.

The rendition by The Who on this date, however, was quite different from both Gaye's and the demo they'd cut back in the mid 60s, extending its length to more than eight minutes. West "just went out there, listened to it, and started playing it. The way the recording came out was great." They did give Leslie quite a bit of space for extended blues-rock soloing, and Roger quite a bit of space for vocal extemporizing during the lengthy, semi-jamming passages. But the track wasn't used until it appeared as a bonus cut on the 1995

Who's Next

CD reissue, although a live December 1971 Who performance of the number in San Francisco would be used as a non-LP B-side the following year.

As both 'Won't Get Fooled Again' and 'Baby Don't You Do It' were recorded in Studio Two rather than Studio One, it's possible both tracks were more intended as warm-ups (as Townshend states in his notes to the deluxe edition) than serious stabs at cuts for an official release. That impression's reinforced by the group's decision to cut without overdubbing, Douglas confirming in his interview with Don Zulaica that all the vocals were live as well. Though it would have been a disastrously unsuitable A-side in 1971, upon hearing 'Baby Don't You Do It' nearly 25 years later as the 1995

Who's Next

CD edition was being assembled, Pete even told reissue producer Jon Astley (as reported in

ICE

) "that could easily be a single."

Much confusion lingers as to what else was recorded at the Record Plant, and who played on the tracks that have surfaced. Though West is only credited as a guitar player on 'Baby Don't You Do It' for the Record Plant recordings that have gained official release, he remembers being played demos of 'Won't Get Fooled Again' and 'Behind Blue Eyes,' as well as working on 'Behind Blue Eyes' and possibly 'Baba O'Riley' (no Record Plant version of which has ever circulated). And while it's been reported that Mountain's Felix Pappalardi (also renowned for having produced Cream) produced the March 16 recordings (and Townshend remembered Pappalardi producing 'Won't Get Fooled Again' in a December 1971

ZigZag

interview), West says Pappalardi wasn't involved.

According to Leslie, Felix was approached to participate, Lambert asking West if Pappalardi played organ. The ensuing confusion, however, reflected the disorganization of the group's Record Plant sessions in general, as West had Pappalardi "come down for the sessions, and it got a little hairy, 'cause Pete thought they wanted him to play bass. John Entwistle came in and said, 'What's this?' Felix said, 'My bass amps.' [Entwistle] says, 'I'm the bass player in the fucking Who.' [Felix says], 'Well, make up your mind, I'm a busy man.' He thought he was going to be in there to produce. It got a little heated, and he left. What happened was, Kit Lambert thought he was Felix Cavaliere from the Rascals, who

did

play organ. So it was embarrassing to him. He didn't play anything."

Whatever amps the Mountain men brought into the Record Plant, it's hard to imagine a louder in-studio tandem than Townshend and West in early 1971. "I was using a very small Sunn cabinet, with one 12-inch speaker, and a 50-watt Marshall," West told Gibson.com. "Townshend was using his Hi-Watt amps, and he said to me that he wanted to be the loudest. Afterwards he came over to me – I guess he was a little embarrassed – and said, 'Can you hear yourself okay?' I told him I could hear myself even if I was in Chicago."

Judging from the annotation on the

Who's Next

deluxe edition, at least three tracks were started on March 17, with work continuing on two of these the following day. 'Love Ain't for Keeping,' whose deluxe edition version dates entirely from the 17th, is done in a considerably heavier manner than the official

Who's Next

re-recording. Even more notably, Townshend rather than Daltrey handles the lead vocal, without any support from backup harmonies; it's double the length of the version on the Who's Next LP, with much more extended guitar soloing, which verges on the tedious on the lengthy rideout; and there's a modulated synthesizer sweep throughout, though it's largely relegated to the background. For all these reasons, it's markedly inferior to the remake.

The Record Plant version of 'Behind Blue Eyes' is more satisfying, though the opening verse has a fuller arrangement than the re-recording on

Who's Next

would. A celestial organ hovers over the folky guitar riff, and cymbal sweeps and fuzzy hard rock guitar riffs occasionally punctuate the calm. Al Kooper is credited with the organ on the

Who's Next

deluxe edition, and his participation would have made sense, as he'd played organ on some of the New York sessions for

The Who Sell Out

back in 1967. However, according to Kooper, he does not play on this track, or indeed on any of The Who's Record Plant sessions.

'Pure and Easy,' still considered a core

Lifehouse

song at this point, was also started on the 17th, and is executed pretty well, though the drums largely drop out during the bridge. Too, the transitions between the song's sections are less effectively dramatic, and the end hasn't fully been worked out, disjointed handclapping continuing during the concluding organ note. This too has an organ, and one still wonders who was responsible, especially if it wasn't Kooper.

"As far as why New York musicians were used, I think it was just going to be a jam," says Dennis Ferrante, who remembers working as an assistant engineer on 'Behind Blue Eyes' and 'Won't Get Fooled Again.' "They blended just fine with The Who. Jack was cool with the guys, but I felt tension between the band and Kit."

Work on both 'Love Ain't for Keeping' and 'Behind Blue Eyes' continued on March 18, and the

Who's Next

deluxe edition also includes a version of 'Getting in Tune' (then still titled 'I'm in Tune') recorded on that date. Both piano and organ are heard in this arrangement, the piano perhaps contributed by Kenny Ascher, who'd later play on several John Lennon albums; he's noted as a session musician for the Record Plant recordings in Andy Neill and Matt Kent's

Anyway Anyhow Anywhere

Who chronicle, though he's not credited in the deluxe edition notes. This rendition lacks the call-response vocals so critical to some of the choruses on the official

Who's Next

LP, and is nearly two minutes longer, the difference being accounted for by a way-too-long instrumental break. Lambert evidently enjoyed it, however, as Townshend's deluxe edition liner notes recall Kit running out holding a sign inscribed DON'T STOP! during a "kicking jam session" at the end of the song. Lambert also changed the color of the studio lighting as songs were recorded, literally (in Douglas's recollection in

Guitar Shop

) diving across the board during one Daltrey vocal overdub of 'Won't Get Fooled Again' to reach the controls in time for Roger's climactic scream. "He made it," Douglas remembered, "but he wound up with little indentations in his face from the knobs in the monitor section."

Another memory Leslie West has of the sessions indicates he might have been playing on 'Getting in Tune' as well, so similar is it to Townshend's tale: "Kit Lambert was out of his fucking mind, because we were doing one of the tracks, and it was going along great. Kit comes out with a sign that says, 'Great work! Keep it up!' He's putting it in front of our faces as we're playing. Pete stops the session and called Kit a fucking twit for ruining the take. You know, he's running around like a madman with a sign in front of everybody while we're recording. I'd never seen anything like [it]."

There were some lighter moments amid the madness, even if the line between the fun and the madness was getting ever harder to distinguish, particularly when it came to the behavior of their drummer. One evening they were visited by the legendary guitarist Link Wray, whose 1958 hit single 'Rumble' was the first rock recording to effectively use fuzz guitar. As Townshend wrote in 1974 in his liner notes to

The Link Wray Rumble

, "Keith Moon promptly took off all his clothes. He stayed naked until people started to take notice, then when they became bored with his studio streak he dressed as a wasp and buzzed around the studio. This later inspired the [1972] B-side 'Waspman,' a tune we hereby dedicate to Link Wray." Laughs Leslie West, "I remember Keith Moon playing on this gigantic Hammond organ between takes; he was out there, and he looked like Phantom of the Opera. I said to Pete, 'Well, he looks like he's having a good time.' And Pete says, 'No mate, he's being deadly serious.'" On a more serious note, West gave Townshend a Les Paul Jr. guitar that Pete would play on some 1971 Who sessions.

If any more progress was made at the Record Plant this week, however, nothing's emerged from The Who's archives to verify it. Townshend's deluxe edition liner notes indicate sessions in Studio One lasted for four days starting on March 17, but nothing's emerged from either the 19th or the 20th, though documentation consulted by Jon Astley (who mastered the

Who's Next

deluxe edition) indicates that recording was also done on the 23rd. While a version of 'Time Is Passing' first issued on the 1998 CD edition of

Odds & Sods

is attributed to the Record Plant sessions, this was likely recorded slightly later in 1971 after the group's return to England, especially as

Anyway Anyhow Anywhere

doesn't list the song has having been cut in New York. Possibly work was slowing or grinding to a halt amidst attempts to continue the album at the Record Plant as the week progressed, and the combination of personal problems and less-than-ideal production wore the band down.

When things came to a head, however, it wouldn't happen at the Record Plant, but in Lambert's room in the Navarro Hotel at Central Park South, where Townshend had called a group meeting. Though not reported at the time, in hindsight the ensuing confrontation between Lambert and Townshend did not just put another damper on the

Lifehouse

project, but also permanently damaged the relationship between the two men. As Pete walked into Kit's room, he heard his trusted co-manager raging against the guitarist to Lambert's assistant, Anya Butler, quoting the outburst as such in his notes to the

Who's Next

deluxe edition: "Townshend has blocked me at every front. I will not allow him to block me this time." So devastated was Pete at hearing himself referred to this way – and not even by his first name, but his last – that at some point during the meeting, he edged toward the open window with thoughts of throwing himself to his death. Butler guessed his intentions, took him by the arm, and dissuaded him. "

That

," Townshend told

Revolver

in 2000, "is when I gave up on

Lifehouse

."

That's Townshend's version, anyway. Whether a hugely successful musician with a growing family, who'd by his own written admission just had some "great fun" at the Record Plant despite the turmoil, was seriously considering suicide seems uncertain. It's also odd that a fellow with such a thick-skinned persona would be so hurt by Lambert referring to him by last name only – a slight he does seem to have carried for decades, mentioning it in his

Lifehouse Chronicles

notes too. It is certain that Pete took Kit's diminishing competence, perceived attempts to obstruct the progression of

Lifehouse

, and general turn for the worse quite personally, perhaps seeing it as the abdication of his closest ally outside The Who – and, perhaps, closest ally of all. "Kit was the only one who could really communicate to Pete what was good and what was bad, and Pete would accept it," acknowledges Roger Daltrey in the

Classic Albums

documentary on

Who's Next

. "He wouldn't accept anything otherwise."

Whether or not the intention was to record the entirety of the

Who's Next

album at the Record Plant, the sessions had to be considered a failure for the most part. The group

had

worked on what seemed like at least half an album of songs likely to make the cut for whatever LP resulted, but none of them had yet realized their full potential as studio recordings. Whether or not any elements would be salvaged, at least as tracks upon which overdubs could be done, was questionable. So was whether they'd provide the foundation for anything else to do with

Lifehouse

, whether a film or otherwise. Work would resume on the album soon enough, back in their native London. But unsurprisingly, this time around, Kit Lambert wouldn't be in the production seat.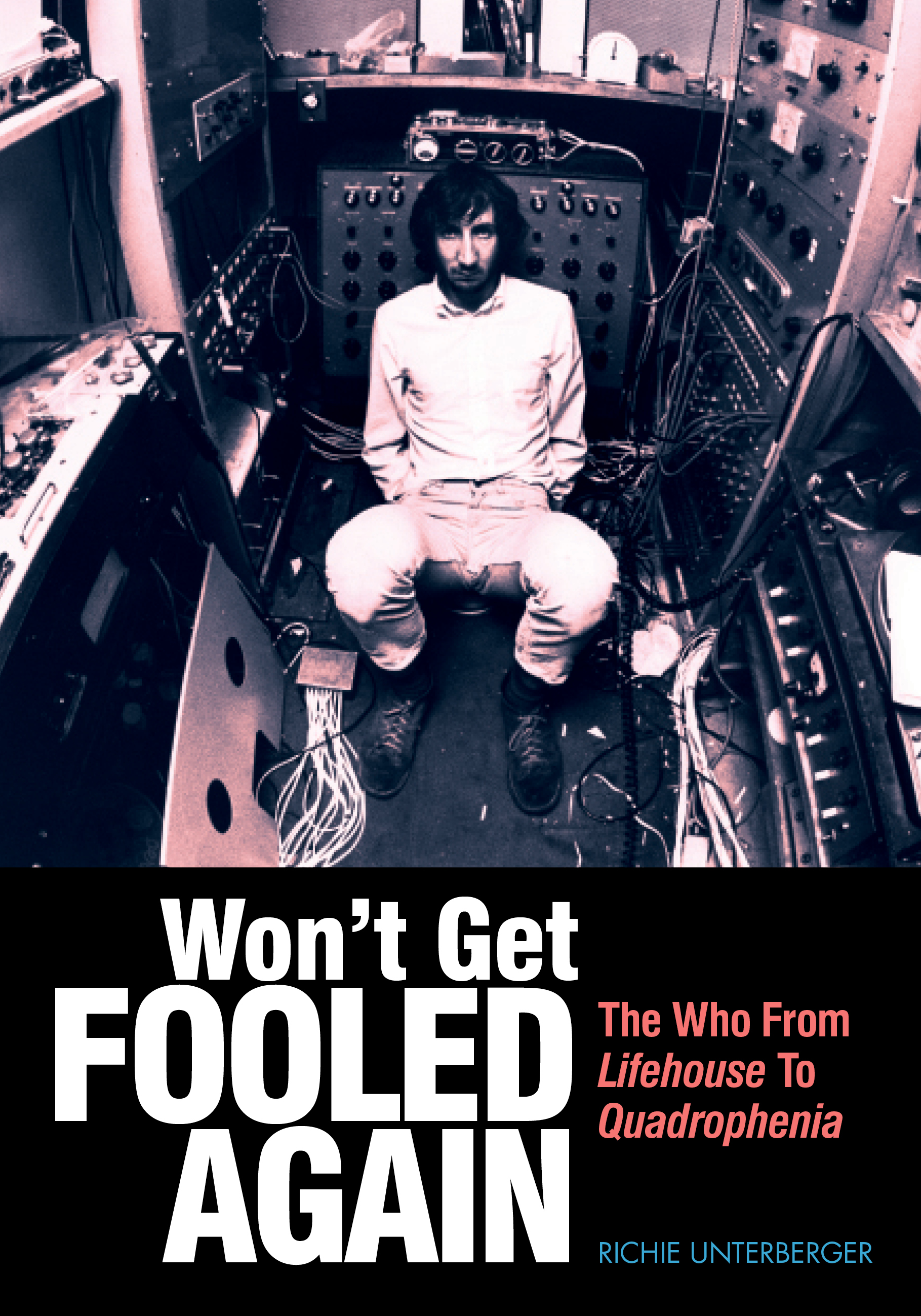 unless otherwise specified.
HOME WHAT'S NEW MUSIC BOOKS MUSIC REVIEWS TRAVEL BOOKS