UNKNOWN LEGENDS OF ROCK'N'ROLL
Unknown Legends of Rock'n'Roll is a 422-page book (Miller Freeman, $19.95) with in-depth profiles of sixty of the most interesting overlooked cult rock artists of all time, in all cases including first-hand interview material with the artists themselves and/or their close associates. The book also includes a 12-song, 45-minute CD with rare tracks by a dozen of the acts covered in the volume. The text is accompanied by 90 photos and reviews of the most essential recordings by each artist.
Click Here for:

To buy Unknown Legends of Rock'n'Roll:
Unknown Legends of Rock'n'Rollis widely available at both independent booksellers and chain bookstores throughout North America, as well as many such outlets overseas. To order on-line via amazon.com, click on the book cover below.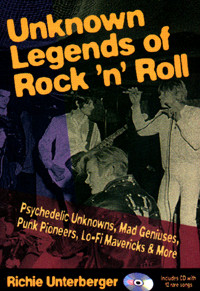 unless otherwise specified.
HOME WHAT'S NEW MUSIC BOOKS MUSIC REVIEWS TRAVEL BOOKS